Safexpress Contact: Find below customer care details of Safexpress couriers in India, including phone and address. You can reach the below contact for queries on Safexpress locations, freights, online tracking, cargo rates, express delivery or other questions on Safexpress services in India. Besides contact details the page also offers information and links on Safexpress products and services.
Safexpress Head Office
Safexpress Pvt. Ltd.
Safex Cargo Complex
National Highway No. 8
Mahipalpur Extension
New Delhi – 110 037
Phone: 011-26783281
Fax: 011-26781481
Safexpress Customer Care
Phone: 1800 113 113 (toll free)
Email: [email protected]
Regional Offices
Ahmedabad: 02717-251387 /88
Bangalore: 080-28549009 (five lines)
Bhopal: 0755-2852634
Bhubaneshwar: 0674-2588394
Chennai: 044-65218247
Cochin: 0484-2609415
Delhi: 0124-2348621 – 26
Guwahati: 0361-2134341 /42
Jaipur: 0141-2332981
Kolkata: 033-26594151 (five lines)
Lucknow: 0522-2476065 /66
Mumbai: 02522-654581 (ten lines)
Goa: 0832-2888501
Patna: 0612-2692911
Pune: 02114-235891
Secunderabad: 040-27952711 (five lines)
Hyderabad: 040-27952711 (five lines)
Srinagar: 0194-2470049
Ajmer: 0145-2695791
Assam: 0373-2322471
The above contacts are of Safexpress offices across the country. You can reach the contacts for new shipments, status of packages, tracking, or complaints on Safexpress services
______
Pickup Request / Tracking
Would you like an executive from Safexpress to pick your packages from your address? Simply fill the form here with details of origin, destination and weight to have someone from the Safexpress office call you. To track your shipment online simply input your waybill/consignment number to access details on the status.
About Safexpress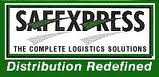 Safexpress was launched in the year 1997. Launched as a door-to-door service, Safexpress currently covers over 560 destinations across 35 states. Covering more than 1000 routes, the logistics company has over 3,600 vehicles that travels more than 5,00,000 kms a day and delivers more than eight million packages a month. Limca Book of Records in 2003 declared Safexpress as India's "Largest Logistics Service Provider".
Safexpress services include Express (a time definite service with flexibility of surface and air connectivity); Draft-on-delivery (a value-added service wherein the delivery would take place only when draft has been collected); All Risk Cover (Safexpress would cover the value of the loss in case of damage); Safebox (convenient boxes that accommodate up to 20kgs of cargo); Safeair (faster transport of documents/goods through air); ILM; and Consulting (logistics consultancy).