Contact of Qatar Airways customer service
Contact Qatar Airways: Find below customer care details of Qatar Airways, including phone and address. You can reach the below contact for new flight booking, cancellation, refund, baggage claim, cheap airfares, deals or other queries on Qatar Airways. Besides contact details the page also offers information and links on services of Qatar Airways.
Qatar Airways Head Office
Qatar Airways Tower
P.O. Box 22550
Doha, Qatar
Tel: (+ 974) 4449 6000
Qatar Airways Customer Service
+974 4420 3015
Reservation (Qatar)
Phone: +974 4449 6666 /
Fax: +974 4462 1533
Sales
+974 4449 6000 / +974 4449 6158
Flight Enquiry
+974 4462 2999
Refund / Baggage Help
+974 4420 3015
Qatar Airways Cargo
+974 4455 6111
Reservations – UK
+44 870 389 8090
+44 208 897 9084
Reservations – US
+1 877 777 2827 (toll free)
Reservations – UAE
+971 4 229 2229
+971 2 666 4476
Privilege Club (Qmiles) Contact
(+974) 4449 6449
_____________
Book Flight
To book a Qatar Airways flight online click here
Check-In
You should check-in 36 hours to 90 minutes before departure. Online check-in is available in several Asian destinations besides Europe, Australia, Middle East and North America. Some of the Asian destinations where online check-in is available is Bangkok, Beijing, Lahore, Delhi, Jakarta, Mumbai, Tokyo, Singapore, Dhaka and Colombo. To check-in online from the website click here. For mobile check in simply visit qatarairways.com from your mobile and email your boarding pass for printing letter.
Baggage Information
Carry-On Baggage: Those flying on Economy Class can carry 1 piece not exceeding 7 kg. Business and First Class fliers can carry 2 pieces not exceeding 15kg.
Checked Baggage: Economy class passengers can carry two bags each with 23 kg weight. First Class passengers can carry 40 kg (2 bags) while Business Class passengers can carry 30kg (2 bags).
Trace Lost Baggage
To trace your lost baggage click here
Duty Free Shopping
Qatar Airways offers duty free shopping in flight with latest fragrances, cosmetics, watches, jewellery and much more.
Visa Requirements
To check visa and passport requirements for your Qatar Airways flight click here
Privilege Club
As a member of this Club you earn Qmiles every time you fly with Qatar Airways or its partner flights. You can also earn miles every time you book a hotel or rent a car. To enroll with Qmiles click here
About Qatar Airways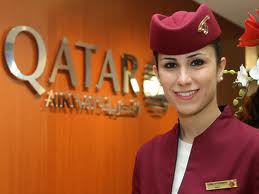 Qatar Airways was founded in the year 1993 and is the national carrier of Qatar. It is one of five airlines that has been awarded 5 star rating by Skytrax. It operates to over 100 destinations with its main hub at Doha International Airport. Qatar Airways has become one of the fastest growing carriers in the world. The airline, headquartered in Doha, has over 20,000 employees.
Qatar Airways ranked third best airline in the world in the annual 2010 Skytrax passenger survey. It has also been the Best Airline in the Middle East for the fifth year in a row. Qatar Airways was also named Best Airline in the World for International Travel by readers of Business Traveller magazine in the US and won the Best Airport Lounges in the Middle East for First and Business Class award at the Pax International Awards in Dubai. During the 2010/11 financial year, the airline expects to carry over 16 million passengers worldwide.
Destinations
Qatar Airways destinations include Geneva, Frankfurt, Vienna, Zurich, Rome, London, Barcelona, Budapest, Paris, Dubai, Tehran, Riyadh, Bahrain, Doha, Amman, Delhi, Karachi, Mumbai, Bengaluru, Trivandrum, Kuala Lumpur, Manila, Osaka, Seoul, Singapore, Bangkok, New York, Washington, Buenos Aires and others. Read More