Contact Wright Brothers National Memorial: Find below customer service details of Wright Brothers National Memorial, North Carolina, including phone and email. Besides contact details, the page also offers a brief overview of the tourist destination.
Address
Wright Brothers National Memorial
1401 National Park Drive
Manteo, NC 27954
Directions: Google Maps
Support
Phone: 252-473-2111
_______
About Wright Brothers National Memorial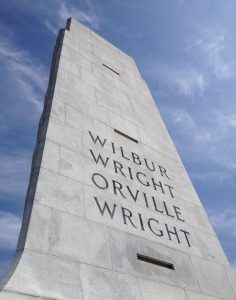 Located in North Carolina, the Wright Brothers National Memorial is a historic site, honouring the success of the first official flight take-off, by brothers Wilbur and Orville Wright. The maiden flight take-off, atop the Kill Devil Hills in 1903, is now a protected site, with a 60 feet erected granite stone, along with a visitor centre built in art-deco style. Built in 1932, the memorial is the first federal park in the country, with a public monumental structure, and the granite monument is hollow on the inside, with black granite flooring.
Towering at 60 feet, the monument stands erected atop a triangular base made of granite, and the surrounding areas are well maintained, with markings of the historical flight take-off, and landing by the Wright Brothers. The historic site covers 482 acres, divided into 3 zones, namely the monument, the museum, and the park with a centennial pavilion, and is a perfect trip for aviation enthusiasts. Every year, around 500,000 people visit the Wright Brothers National Memorial, vacationing near and around the Outer Banks.
Visitors can find interesting outdoor and indoor exhibits, other than the granite monument, perched atop the 90 foot hill. Exhibits include the field, the hangar, airplane models of glider (1902), flyer & flying machine (1903), tools, photographs, and inscriptions, briefing the visitors about the various stages of flying attempts by the Wright Brothers, and their significance in shaping the present aviation industry. The memorial celebrated the 115th anniversary in 2018, and opened its newly equipped visitors centre with upgraded features, to create better interactive experiences for people.
Things to do at the park, including visiting the spot of the successful flight take-off and landing, camp building models of 1903, the commemorative sculpture, stroll around the park, and participate in the aviation classes and field trips at the park for children and air flying enthusiasts. Visitors cannot climb or scale the monument, and it remains closed to the public, for safety measures.
Open all days of the weeks, from 9am-5pm, the park remains closed during Christmas, and visitors typically spend around 2 hours touring the centennial pavilion, museum, and the monument. The best time to visit is the early mornings, and best avoided during rainy days, and late afternoons. Ranger walk programs are available, and the entrance tickets cost $10 for adults, $25 for commercial vehicles, $40 for buses, and is free for children below 15. For complaints or queries on tickets, events, parking, photography, or others, reach the Wright Brothers National Memorial support.