Contact Vijayawada Junction: Find below customer service details of Vijayawada Junction, including phone and email. Besides contact details, the page also offers a brief overview of the railway station.
Address
Vinchipeta, Vijayawada,
Andhra Pradesh 520001
Directions: Google Maps
Support
Phone: 139
Phone: 0866 2224660
Email: [email protected] (IRCTC support)
______
About Vijayawada Junction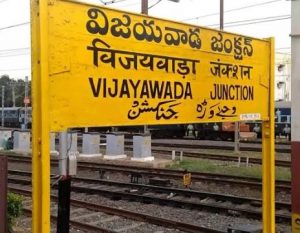 Vijayawada Junction with station code BZA is a major railway station connecting commuters travelling to and from Vijayawada in Andhra Pradesh. Opened in the year 1888, the station falls under the South Coast Railway zone and is operated by the Indian Railways. There are 22 tracks and 10 platforms, with amenities like waiting room, parking, food stalls and restaurant. There is an executive lounge that can be accessed for a small fee. It has amenities like free internet, beverages, washroom, locker and luggage rack. There is a also a separate waiting room for ladies.
Each day more than 150,000 passengers are served through the passenger and express trains. According to Wikipedia, there are more than 250 passenger trains that have origin or pass through the station daily. The station, which is apparently the fourth busiest in India, connects commuters to leading metros such as Mumbai, Kolkata, New Delhi and Chennai. Some of the satellite stations part of the Vijayawada railway division include Gannavaram, Hunadala, Kondapalli, Ramavarappadu and Rayanapadu.
As for trains passing through Vijayawada Junction, you have – Charminar Express, Simhadri Express, Vskp Nzb Special, Hyb Vskp Special, Bbs Pune Express, Njp Mas Express, Ns Tpty Express, Mys Howrah Express, Vskp Ltt Express, Vskp Sc Special, Bangalore Express, Sbc Mas Express, Bangalore Special, Hwh Ltt Special, Rameshwaram Express, Ogl Jp Special, Bhubaneswar Express, Hyb Bidr Express, Snsi Bza Express, Satavahana Express, Howrah Express, Jan Shatabdi, Rayagada Psgnr, Hubli Passenger, Tirumala Express, Dhanbad Express, Dakshin Express, Tamil Nadu Express, Rajdhani Express, Chennai Rajdhni, Andaman Express, Guwahati Express, Amaravathi Express, Vza Intercity, Sc Intercity, Andhra Pradesh Express, Vijayawada Passenger, Grand Trunk Express and Coimbatore Express, among others.
The schedule of trains with origin at Vijayawada Junction is available on the Indian Railways website. You can also see the arrival and departure time of trains, along with the operating days and number of stops. To book a train, you can visit the IRCTC website. Payment for booking on IRCTC can be made using debit/credit card and net banking. To make changes to your ticket or for cancellation, you can login to your IRCTC account and manage the recent reservation. You can also check PNR status of tickets that are in Waiting List. For complaints or queries on tickets, cancellation, lost and found items, security, or others, reach the Vijayawada Junction support.