Find below customer service details of Tidel Park, Taramani, Chennai . Besides contact details, the page also offers a brief overview of the tech park.
Address
No. 4, Rajiv Gandhi Salai,
Taramani, Chennai 600 113
Support
Phone: 044 2254 0500/ 0501
Email: [email protected]
Email: [email protected]
______
About Tidel Park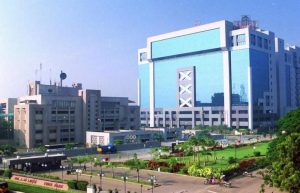 Tidel Park is a popular technology park located in the southern Indian city of Chennai. Opened in the year 2000, the tech park was built at a cost of Rs 338 crore. One of the largest tech parks in Asia, Tidel Park is spread across 1.28 million sq ft and boasts of 13 floors. Located at Taramani, opposite the Thiruvanmiyur MRTS Railway Station, the park features state of the art construction and comes with all key amenities to make you feel at home.
The country's single largest IT Park further offers ample parking space, high speed data, recreation facilities and backup for power and communication. Add to that a well equipped auditorium and conference halls. The auditorium has 650 seat capacity and is perfect for conventions, seminars or workshops. Food lovers will find a large 16,000 sq ft multi-cuisine food court with high-end restaurants, cafes, and coffee shops. The centralised air-conditioning building also boasts of banks, shops, department stores and health clubs as well. As for parking, you have space to park close to 4,000 bikes and 1,200 cars.
According to the official website, the tenants include some of the top multinational companies in the country, many of them operating 24×7. Some of the top names include Ernst & Young, Infosys, Cisco Systems, State Bank of India, Tata Consultancy Services, Animaker, Williams Lea, and India Post. More than 12,000 software professionals are employed in the park. If you are looking to lease space in the tech park, you can reach the support via phone or email. Besides Taramani, Tidel Park also operates another tech park in the city, the Tidel Park III at Pattabiram. There is also a tech park in Coimbatore bearing the same name.