Find below customer service details of Thyrocare, India. Besides contact details, the page also offers a brief overview of the diagnostics company.
Head Office
D-37/1, MIDC, Turbhe,
Navi Mumbai 400 703
Phone: 022 – 4125 2525
Email: [email protected]
Customer Service
Phone 022 – 3090 0000 /6712 3400
Email: [email protected]
______
About Thyrocare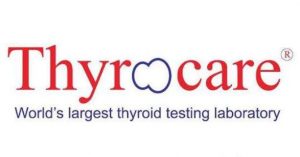 Thyrocare is a leading Indian diagnostics chain founded by entrepreneur A Velumani in 1996. The healthcare company employs more than 2,200 and has operations across the country. Headquartered at Mumbai, Thyrocare network spans some 3,000 cities and towns with some 1,100+ patient care and collection centers. The company also has an active franchise network that numbers more than 5,000. It partners with leading doctors, hospitals and pathologists across the country. Besides a regional processing laboratory at strategic locations, Thyrocare has a Centralized Processing Laboratory (CPL) in Mumbai with state of the art equipments and trained technicians. The ISO certified firm boasts of having the country's first fully automated diagnostic laboratory. Each year it processes close to 3 billion investigations. The CPL center in Mumbai can process over 50,000 samples in a single day. The labs ensure error-free processing is done for all tests through an efficient barcoding and bi-directional interfacing. Thyrocare is accredited by the College of American Pathologists (CAP) and National Accreditation Board for Testing and Calibration Laboratories (NABL).
To perform a test, you can visit any of the nearest Thyrocare center. Locate one at your city using the search tool on the website showing the network of diagnostic centers. You can also book a test at the comfort of your home. There are umpteen tests available for different age groups, and for tracking hormonal imbalance, nutritional deficiencies, among others. There are tests where you will need to fast before samples are collected. The collection agent shall call and provide the instructions before visiting. Some of the popular tests you can book online include TSH (Thyroid Stimulating Hormone), T4 (Total Thyroxine), T3, HBA, Fasting Blood Sugare, Free Thyroxine, Complete Urine Analysis, Creatinine-Serum, Prolactin, Uric Acid, Calcium, Random Blood Sugar, Total Cholesterol, Bilirubin-Direct, Potassium, Testosterone, Cotinine, Albumin-Serum, Insulin-Fasting, Chloride, Magnesium, Rubella, Total Iron Binding Capacity, Typhoid Test, Thyroglobulin, Serum Zinc, Ionic Calcium, Vitamin A, Vitamin E, Insulin Antibodies, to name a few.
There are health packages offering a number of tests for a fixed price. The Aarogyam plan that starts with Rs 1,000 offers more than 35 tests covering thyroid, lipid, iron deficiency, liver and renal. Note that some of the tests or profile may require fast for 10-12 hours. When you book a test online you can choose to pay through debit/credit card or Internet banking. Booking of tests can also be done through Android and iOS app. You also have the option to pay when the samples will be collected from home. If you plan to cancel a test, you can do same before sample collection. A full refund will be processed to your account within 7-10 working days. The ideal time for sample collection would be morning 6.30am to 11am. After the tests are complete, you will receive a report delivered to your registered email ID within 24-72 hours. You can sign in to your account to download the report as PDF copy. For an additional cost you can request for a hard copy sent to your address. For complaints or queries on payment, cancellation, refund, or others, reach the Thyrocare support.