Contact The Metropolitan Museum of Art: Find below customer service details of The Metropolitan Museum of Art, New York, including phone and email. Besides contact details, the page also offers a brief overview of the museum.
Addresses
The Met Fifth Avenue
1000 Fifth Avenue
New York, NY 10028
Phone: 212-535-7710
The Met Breuer
945 Madison Avenue
New York, NY 10021
Phone: 212-731-1675
The Met Cloisters
99 Margaret Corbin Drive
Fort Tryon Park
New York, NY 10040
Phone: 212-923-3700
Customer Service
Phone: 212-535-7710 (online tickets)
Phone: 800-468-7386 (The Met Store)
Email: [email protected]
Email: [email protected]
____
About The Metropolitan Museum of Art (Met)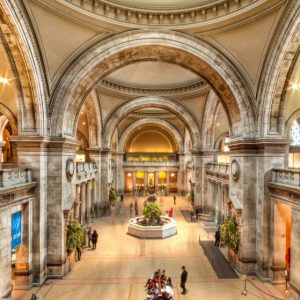 The Metropolitan Museum of Art (Met) in New York is a popular sight seeing destination, established in the year 1870. Located at the The Met Fifth Avenue, The Met Breuer, and The Met Cloisters in New York, the museum is one of the largest in the United States and is also one of the most visited in the world. It boasts of 17 departments, 2 million sq ft gallery space and more than 2 million collections spanning 5000 years of human culture. The museum welcomes more than 7 million visitors each year.
Visitors to Met will be enthralled by the large collection of paintings, musical instruments, weapons, historical objects, clothing, Egyptian art, and sculptures. There are more than 25,000 photographs in The Met's collection. Works of popular artists featured include Raphael, Botticelli, Veneziano, Goya, Leonardo da Vinci, Degas, Michelangelo, Claude Monet, Vincent Van Gogh, Pablo Picasso, Henri Matisse, and Amedeo Modigliani.
The many departments you will find at the museum include The Costume Institute, Gardens at The Met Cloisters, Egyptian Art, Green and Roman Art, Arms and Armor, Medieval Art and The Cloisters, The American Wing, Ancient Near East, Modern Art, European Sculpture and Decorative Arts, to name a few. Met also has a large collection of art available in the digital library online. The collection spans 400,000 pieces. You can also shop for prints/posters, books, home decor items, stationery, apparel and fashion accessories online. Purchases at The Met Store can be made using Visa, MasterCard or American Express.
You can visit the website to see the current and upcoming exhibitions and events. The museum is open seven days a week. Timings vary for weekdays and weekends. Tickets for admission can be purchased at the Museum ticket counter or online in advance. Ticket rates vary for adults, students and seniors. Members can enter for free and can get early access to exhibitions and events. There are guided tours every fifteen minutes throughout the day. Public tours are free with Museum admission. For more information or queries on tickets, events, payment, refund, parking, or others, reach the Metropolitan Museum of Art support.