Contact Temple Square: Find below customer service details of Temple Square, Salt Lake City, including phone and email. Besides contact details, the page also offers a brief overview of the tourist landmark.
Address
50 W. North Temple
Salt Lake City, Utah 84150
Phone: (801) 531-1000
Support
Phone: (801) 240-1000
Email: [email protected]
_____
About Temple Square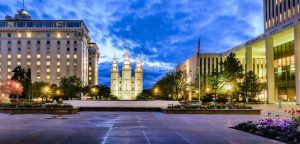 Temple Square is the city center of Salt Lake City dating back to 1847 by the pioneers who came to Utah. It is purported to be the most historic attraction in Utah. The thirty-five-acre square that is at the heart of Salt Lake City, has beautiful grounds around the Salt Lake Temple, one of the most incredibly beautiful buildings in Utah. The North Visitor's Center has a fantastic painted dome with a magnificent 11-foot statue of the Savior, Thorvaldsen's Christus seeming to envelop visitors.
A model of Jerusalem in New Testament Times is situated in the Temple Square and depicts Christ's life through a series of paintings and exhibits. Also of great interest to visitors are South Visitor's center, Family Search Center, Conference Center, Joseph Smith Memorial Building, the Beehive House, Libraries, Assembly Halls and Museums. Visitors throng to the Salt Lake Temple, an 1893 dedicated temple, though not open for tours, attracts devout members of The Church of Jesus Christ of Latter-day Saints.
Temple Square is home to excellent gourmet restaurants and visitors and locals come there to make an evening of it. The Roof restaurant, on the 10th Floor of Joseph Smith Memorial building serves new American buffet with outstanding desserts with views of downtown Salt Lake City. Garden restaurant in the same location is an upscale bistro with open door dining under the skylight surrounded with greenery and flowering plants. Nauvoo Café is the place for breakfast and brunch and is famous for their pot pies, sandwiches, soups and salads. Lion House Pantry is a restaurant serving home style cooking and comfort food.
Temple Square is also host to many private ceremonies like weddings and engagements and people can make their special occasion even more memorable. The historical Joseph Smith Memorial Building is the perfect backdrop for weddings, family events, birthdays, private events, youth and business conferences and reunions. Catering and florist services are also available. Temple Square ground is open free of charge through the year from 9.00 am to 9.00 pm. The timings might vary for Assembly Hall, Beehive House, library, museum, North Visitors Center, South Visitors Center and Conference Center. Visit the website for details on special needs services such as wheelchair availability, translation and guides. There are also details on lodging, activities for kids, and information on hosting a wedding or business meeting.