Contact Starbucks Rewards: Find below customer service details of Starbucks Rewards, US, including phone and email. Besides contact details, the page also offers a brief overview of the program.
Head Office
Starbucks Corporation,
2401 Utah Avenue South,
Suite 800
Seattle, WA 98134
United States
Support
Phone: 1-800-Starbuc (800-782-7282)
Email: [email protected]
Web: Starbucks Rewards
______
About Starbucks Rewards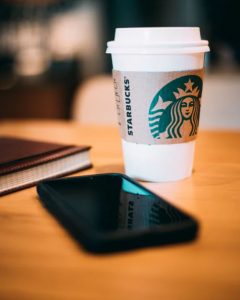 Starbucks is a widely popular American coffeehouse chain. Coffee lovers around the world throng Starbucks for their strong cuppa coffee. One of the ways the brand retains its loyal customers is through the loyalty program. It all began in 2008 when the coffee chain launched the Starbucks Rewards program. Customers earn what is called Stars every time they make a purchase at a participating Starbucks store. Note that this is not available at all Starbucks stores. To avail rewards, customers need to pay for their coffee using Starbucks card or the mobile app.
The propensity of people to earn rewards in lieu of loading money in a card and paying through it has given rise to a growing number of member base. It is needless to say that Starbucks experiment with rewarding loyal customers was a huge success even in terms of revenue. The company went on upgrading the concept and the offerings.
In November 2008, Starbucks launched Starbucks Gold Cards. It was meant for en exclusive band of loyal customers who are eligible for some exclusive in-store benefits and freebies. In November 2009, the company consolidated both the above programs into a single program and named it My Starbucks Rewards. Membership for this card starts at Welcome level and gradually goes up to Gold level.
In February 2016, the company again changed its rewards program. This time it was shifted from a visit base to a purchase base. Moreover, this program is designed to enroll customers automatically. Customers can start earning Stars for every dollar he or she spends. After amassing 125 Stars, the customer is eligible for a free drink. In February 2018, the loyalty program changed track to a credit card based rating. This too enrolls customers automatically. However, the difference with the earlier version is that in this program customers can accumulate Stars even if they purchase outside of Starbucks, but use the Starbuck Visa credit card for the same.
In March 2019, the company again consolidated the program into a single level and a new feature was added whereby customers can encash their reward points at any point. The purchase need not be in terms of a drink. Customers can also purchase ground coffee and even retail merchandise. Customers start earning Stars as soon as they join the program. However, the reward chest will unlock only after the accumulation of 150 Stars.
To get started, you need to first purchase the physical Starbucks Card or Starbucks Card eGift. There is a minimum balance of 5$ to activate the card. You can also do same by downloading the Starbucks mobile app for Android or iOS. Stars can be earned on every dollar spent at a participating Starbucks store. You can also earn Stars when you purchase qualifying Starbucks products from participating retailers. Stars are automatically added to your Starbucks Rewards account within 24 hours. Note that Stars have an expiration period. It must be used within 5 months. For more information or queries on registration, cancellation, refund, or others, reach the Starbucks Rewards support.