Find below customer service details of Springhill Suites, including phone and email. Besides contact details, the page also offers a brief overview of the hotel chain.
Head Office
Marriott International, Inc.
10400 Fernwood Road
Bethesda, MD 20817
Phone: 1-301-380-3000
Customer Service
Phone: 1-888-287-9400
_____
About Springhill Suites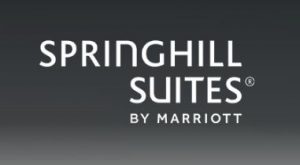 Opened in 1999, Springhill Suites is a luxury all-suite lodging managed by Marriott International, with the majority of the hotel locations in North America. Springhill Suites is the largest upscale lodging brand, with 441 open properties in the United States. Swanky and modern, from the decor to the room layout and services, the suites are well put for a more refreshing and relaxed ambiance. One of the popular and best-ranked suites by the Marriott, for quality service and customer satisfaction, Springhill Suites enjoys a loyal customer base.
Springhill Suites collaborates with Elm furniture for an elegant and furnished look, in the lobby and guest suites. Digital art walls, curated signage, murals, and artwork adorn the lobby and guest suites, and the room layouts are functional for providing the maximum comfort to business and leisure travellers. Spacious king and queen size suites, with plush bedding, pull out sofa, lounge chair, home docking station, well designed workspace, microwave, mini-fridge, coffee maker, and flat screen TV, are the main amenities of Springhill Suites.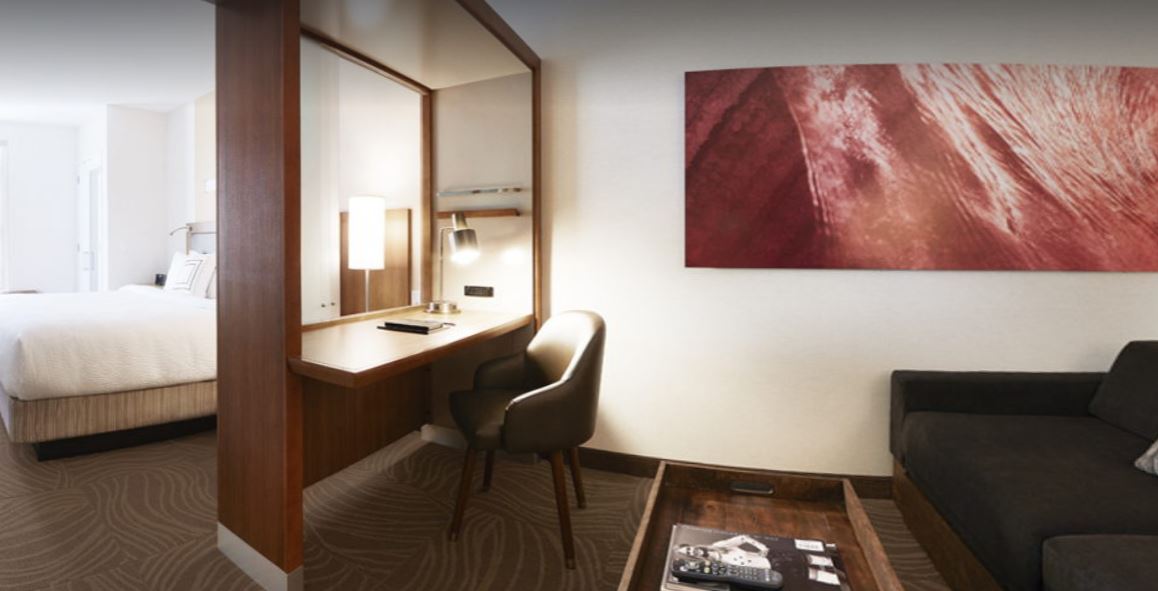 Destination experts review Springhill Suites as a reliable and trustworthy accommodation for long stays, cleanliness, and spacious room layouts at affordable rates. In the United States, you can easily locate and book a Springhill Suite in Alabama, Colorado, California, Louisiana, Texas, Nevada, New York, New Jersey, Washington, Atlanta, and Pennsylvania to name a few.
Every property of Springhill Suites provides complimentary breakfast, morning and evening coffee, 24/7 grocery market store, free Wi-Fi, daily housekeeping, laundry, indoor pool, fitness centre, and meeting room. The suites are affordable and start from $125 – $280 USD per night per head, and member only rates are even cheaper, by booking directly through the website. Members of Marriott Bonvoy are eligible for exclusive deals, complimentary night stays, bonus points towards spa, dining, and grocery shopping. Members can save up to 20% by booking through Marriott Bonvoy, and non-members get a 15% discount.
Marriott Bonvoy members get a $100 resort credit, and $20 credit towards grocery by staying longer, and earn loyalty points by paying with the Marriott Bonvoy credit cards. Discount rates are available only for members, and best rates guarantee is only for reservations made through the official Marriott website, and advance payment is essential during select dates and events. An annual membership fee of $125 USD entitles members to receive free miles/points, extended stays, and room upgrades. Cancellation charges are applicable, and payment is non-refundable. For complaints or queries on reservation, cancellation, refund, or others, reach the Springhill Suites support.