Contact Sansui India: Find below customer care details of Sansui India. Reach the Sansui India customer care for complaints, questions or feedback.
Sansui India Head Office
17th Floor, Mittal Court C Wing,
Nariman Point, Mumbai 400021
Sansui India Customer Care
Phone: 022 – 61644444
Phone: 1800-419-4040
____
About Sansui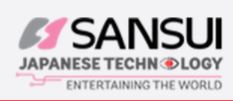 Sansui is a global brand that was initially born in Tokyo Japan in 1947 as a technological manufacturer. The company launched in India in 1997 and since then has been one of the fastest growing companies. Since its launch with 4 employees, the company now employs over 1600. The company has now extended to all major cities and states throughout India thereby serving a larger population.
Sansui India has products that include LED and colour televisions, air conditioner and mobile phones. Under LED TV, find Connect Series, Infinity Brush, Thunder, Infinity Plus, Brush Art, Brush Royale, Dynamite and Curved 4k Ultra, among others. The products under color TV range from Slim TV, NTV and Flat TV. With regard to air conditioners, you will find split ACs of both 1.0 ton and 1.5 ton.
The mobiles phones manufactured and sold by Sansui are either smart phones or feature phones. You can choose from R series and S series for the features phones. The smart phones offered are the SA series. The company offers the option of purchasing the handset online with a major credit card or debit card or just can visit one of their numerous locations situated throughout the country.
Authorised dealers and retailers are listed on the company's website portal making it easy for you to locate. Sansui India believes in their products so much so that they provide warranty on purchase of their products. Warranty of the handsets is available from the time of purchase and it advised to keep the customer's number or receipt in the event the need arises.
All mobile phones are issued a one year warranty from the time of the purchase and accessories and batteries carry 6 months warranty from time of purchase. When products are purchased from authorised dealers and not from an actual Sansui India retail store it is advised to ask for the warranty.
The company prides itself on their customer friendly service support. You are not sure what products are being offered by Sansui? Why not call the customer service department and enquire about the catalogue which showcases all the products. This would give you a better idea and assist you in making a better decision on which product is best for you. You can also contact the customer department service if you have any problems that need to be solved. The customer representatives are very friendly and well knowledgeable and within minutes will be able to solve any issues.