Contact Ranthambore National Park: Find below customer service details of Ranthambore National Park, Rajasthan, including phone and email. Besides contact details, the page also offers a brief overview of the tourist destination.
Address
Ranthambore National Park
Vigyan Nagar, Ranthambore Road,
Prempura, Sawai Madhopur
Rajasthan 322001
Directions: Google Maps
Support
Phone: 0141-2822863
Phone: 0141-2822800
Email: [email protected] (Rajasthan Tourism)
_______
About Ranthambore National Park
India's desert capital Rajasthan is famous for the Ranthambore National Park, a prominent wildlife sanctuary, located at Sawai Madhopur District, near Jaipur. A former hunting ground of the royals of Jaipur, the park named after Ranthambore Fort, protects the endangered Bengal Tiger from becoming extinct. Built on 392 sq.km, the park separates into 10 zones, with 1-5 (core zone) and 6-10 (buffer zone), and notably Zone 6 & 1 are ideal for spotting animals.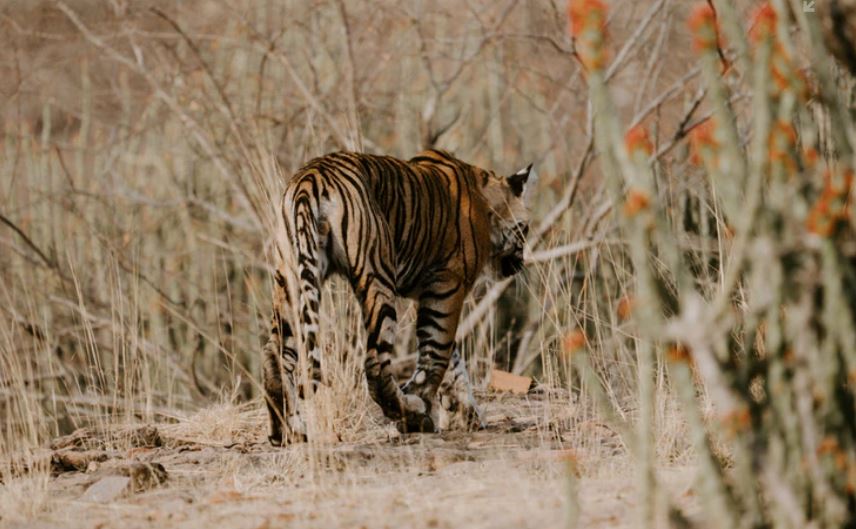 It all started in 1955 as a forest reserve, named as the Sawai Madhopur Gaming Sanctuary, and progressed rapidly as a Project Tiger Reserve in 1973, followed by the declaration as a National Park in 1980. In 1991, adjacent forests became a part of the reserve, and collectively became the Ranthambore National Park.
Vegetation is primarily dry deciduous type, and the terrain is dotted with plenty of Banyan trees, surrounded by perennial water bodies, and streams of rivulets. Besides spotting the Royal Bengal Tigers in large numbers, the park is home to Sambar Deer, Wild Boar, Sloth Bear, Jackals, Leopards, marshland reptiles, Chameleon, Turtles, Snakes, Peacocks, Kingfisher, Cuckoo, Parakeet, Kites and many others that are a visual ecstasy for safari rides.
Ideal places to spot animals are, the Ranthambore Fort (Langurs and Leopards), Padam Talao, the largest lake (animals with their cub), Malik Talao, the smallest lake (marshland crocodiles), Raj Bagh Talao (Sambar deer, Birds, and Tigers), and the Bakula zone (Tigers, Sloth Bears, and the Wild Boar)
The park offers two types of Safari rides, the jeep and the Canter for tourists, and is typically a 3-hour ride into the forestland. Pre-booking is essential, for safari rides, and the timings vary according to the season. A Typical morning ride is from 7 am – 10:30 am, and the late noon rides from 2:30 pm-6 pm, and summer season is the best time to visit the park, to spot animals.
Jungle resorts, cottages, heritage hotels, camping tents, wooden lodges, Villas and Earthen houses sprawl near and around the Ranthambore National Park, for people to choose from a variety of lodging options, inclusive of safari rides. The prices start from INR 4500 – INR 11,000 upwards, with exciting packages for summer and winter season.
Ranthambore National Park, connects with all major metro cities through road, rail, and air, and is on the NH8 and NH11A road, connecting Jaipur International Airport, at 180 kms from the Park. The nearest Railway station is 11 km at Sawai Madhopur District, and Kota is 1.5 kms from the Park. Cab rides, cars, and buses are frequently available from Kota and Jaipur, to reach the park.
The park is not open all through the year, and closes during monsoons, and breeding season from July to September. The tourist season starts from early October to late June, and is best for spotting tigers and safari rides. The Jeep ride costs INR 974 for Indians and INR 1,714 for foreigners, and Canter rides cost INR 617 for Indians and INR 1,357 for foreigners. The ride is free for children below 5 years.