Contact Periyar National Park: Find below customer service details of Periyar National Park, Thekkady, including phone and email. Besides contact details, the page also offers a brief overview of the tourist destination.
Address
Periyar National Park
Thekkady, Kumily,
Kerala 685 536
Directions: Google Maps
Support
Phone: 1800 425 4733 (Kerala Forest Dept toll free)
Phone: 0486 9222027 (Forest Info Centre)
Email: nil
______
About Periyar National Park
Located at Thekkady in the state of Kerala, in Southern India, Periyar National Park and Wildlife Sanctuary is a prominent forest reserve for Asiatic elephants and Tigers, and adjoins a popular pilgrimage spot. Spread over 357 Sq. Miles, the park has two great rivers, Pamba and Periyar, running through the forest reserve, and attracts tourists for river rafting, and boat cruises.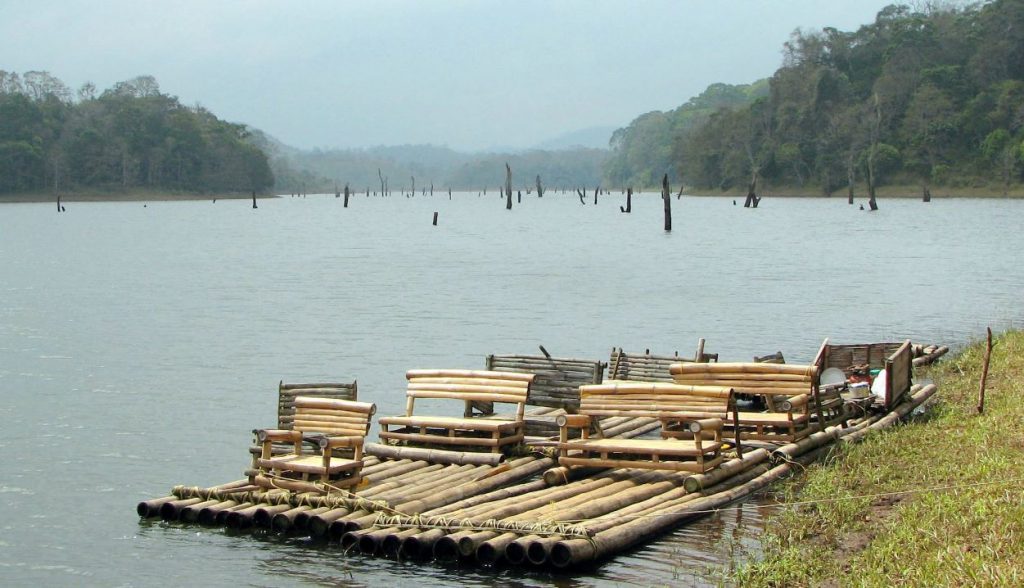 The Periyar National Park, originally a hunting reserve for the Maharajas of Travancore, became a wildlife sanctuary in 1950 and, a Tiger reserve in 1978, and later declared as a National park in 1982. The park developed, under the Project Elephant in 1991, and is a protected forest reserve in South India for elephants and tigers, and is famous for cardamom hills, coffee and tea plantations, and is bordered by picturesque mountain peaks and plateaus.
The highest mountain peak at Periyar National park is Kottamalai, at a height of 2,019m, and is home to the Southern birdwing, the largest butterfly in South India. Common predators found at the park are Asiatic elephants, Bengal tigers, wild boar, Sambar deer, Jungle cat, Sloth bear, Nilgiri langur, and the flying squirrel. The park has 35 species of animals, 24 tigers, and 266 species of birds, namely the Malabar grey hornbill, sunbird, black necked stork, great hornbill, Nilgiri wood pigeon, steppe gull, and oriental darter. There are 45 species of reptiles, 40 species of fish, and 160 species of butterfly, at the park.
Outdoor activities include bamboo river rafting, boat cruise, and bird watching at Periyar Lake, trekking via the Kurisamala – Kumily – Pandikuzhi hills, Jeep rides to Cardamom hills, and forest trekking. The ideal time to visit is from December-March, and the hotter months of March-May is perfect to spot animals and for evening safari rides. Winter starts from October-December, and is ideal for bamboo river rafting, trekking, boat cruises, photography tours, and bird watching. The monsoon season from June-September, is breeding time, and the safari rides remain closed, due to heavy rains.
Periyar National Park, offers elephant safari, jeep safari, and boat cruise, to explore forest and wildlife, and their cost and timings are as follows. The Elephant safari starts at (6:00am & 5:00pm), for a duration of 30 minutes, and costs around INR 350. The Jeep safari is for 4 hours, and starts at (6:00am, 3:00pm, and 11:00pm), and costs around INR 1,500-2000. The Boat Safari is for 45 mins, and starts at (7:25am, 9:15am, 11:15am, 1:30 pm, & 4:00pm), and costs around INR 225. Bamboo River rafting on Periyar Lake starts at (7:30am-12:30pm & 9:30am-2:30pm) for half day and costs INR 1,800 and, from (8:00am-5:00pm) for a full day, and costs INR 2,400.
As for staying, tourists can halt at the forest rest house run by KTDC, inside the park, with prior booking in advance, and can opt between the luxurious Lake Palace and Aranya Nivas, or the economical Periyar House, inside the park.
The nearest international airport is 136 km away at Madurai, and 190 km away at Cochin, from Thekkady. The nearest railway station is 114km away at Kottayam, and has frequent train services that run seven days a week, from Trivandrum. Thekkady has good road connectivity with metro cities and states, and has both govt. and private buses run, from Bangalore, Hyderabad, Chennai, Madurai, Salem, and Hosur.