Contact Patna Junction: Find below customer service details of Patna Junction, including phone and email. Besides contact details, the page also offers a brief overview of the railway station.
Address
Patna Junction,
New Market Station Rd,
Fraser Road Area, Patna,
Bihar 800001
Directions: Google Maps
Support
Phone: 139
Phone: 0612 2224660
Phone: 1800-111-139
Email: [email protected] (IRCTC support)
______
About Patna Junction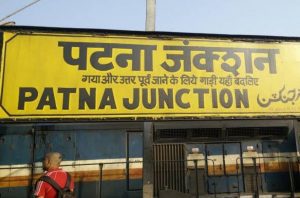 Patna Junction is a busy Indian railway station serving commuters in Patna, the capital city of Bihar. The station opened in the year 1862 was earlier named Bankipore Junction. Patna Junction goes with the station code PNBE and is operated by the Indian Railways. It falls under the East Central Railway Zone and Danapur Division. One of the busiest rail routes, Patna Junction handles more than 170 trains each day on 15 tracks. There are about 10 platforms. Besides Patna Junction, other railway stations in Patna include Rajendranagar Terminal, Gulzarbagh Station, Danapur station, Patliputra Junction and Patna Sahib Station. As for amenities at Patna Junction, passengers will find computerised reservation counters, restrooms, waiting lounges, vehicle parking area and food stalls.
Trains at Patna Junction connect commuters to major hubs such as Bangalore, Amritsar, Allahabad, Kolkata, Udaipur and New Delhi. Popular trains starting at Patna Junction include Pnbe Dhn Special, Pnbe Anvt Special, Kol Garib Rath, Bangalore Special, Pnbe Koaa Special, Gangadamodar Express, Pnbe Bgp Special, Pnbe Jbp Special, Duronto Express, Rnc Janshatabdi, Rajya Rani Express, Intercity Express, Pnbe Pune Express, Patliputra Express, Pnbe Ers Express, Pnbe Vsg Express, Pnbe Kota Express, and Suvidha Train. There are several other trains that pass through the station frequently. The Indian Railways website allows one to check the train schedule, along with the arrival and departure timings.
Train commuters can browse the IRCTC website to check live status of train or reserve a seat. You can book a train on sleeper, AC or chair car. Existing tickets can be viewed and cancelled by signing into account. For those who booked a train on WL or RAC, you can click on PNR Status tab to find out the current reservation status. For complaints or queries on tickets, cancellation, refund, lost and found items, security, or others, reach the Patna Junction support.