Find below visitor support details of Niagara Falls Tourism. Besides contact details, the page also offers a brief overview of the travel landmark.
Address
Niagara Falls,
10 Rainbow Boulevard
Niagara Falls, NY 14303
Niagara Falls,
Ontario Canada, L2G 3Y9
Support
Phone: 1-877-325-5787
Phone: 716-285-8600
Phone: 905-356-6061 (Canada)
Phone: 1-800-563-2557 (Canada)
Email: [email protected]
______
About Niagara Falls
Cradled in the lap of mother nature, Niagara Falls leaves the spectators spellbound, with its outburst of cascading waterfalls gushing atop from the mountain gorge. Located on the US-Canada border, Niagara Falls is not just any average waterfall, and is a much-awaited trip on everybody's bucket list. Widely acclaimed as a geological wonder, Niagara Falls is collectively the name of three waterfalls overlapping across the city borders of New York and Ontario. Every year, nearly 14 million people visit the Niagara Falls, making it an all-year round tourist destination, with plenty of tourist attractions, outdoor recreation, nightlife, souvenir shops, and many more to explore for fun, entertainment and leisure.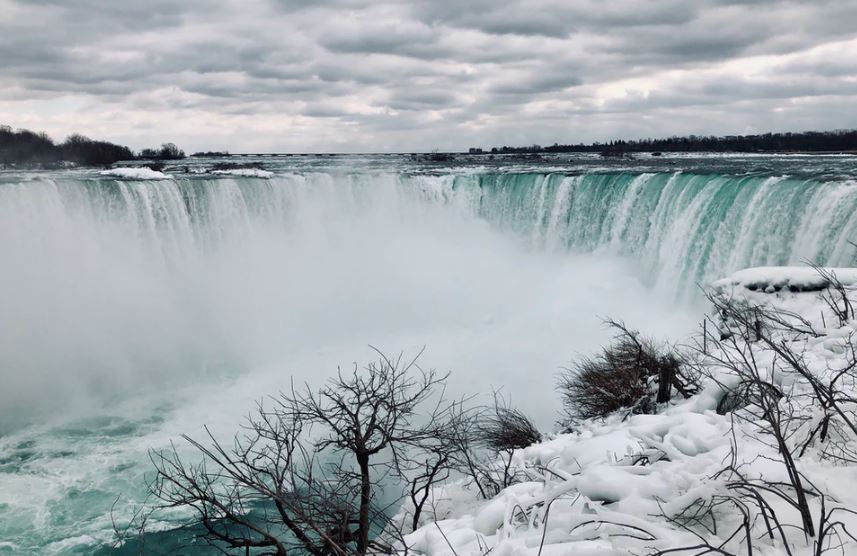 The Niagara Falls Tourism Board is run by a group of directors and management team, working towards building a stronger tourism industry, and to foster business trade with international stakeholders. A non-profit organization, the tourism board's visitor's information center is open in Ontario, and aids on travel planning with maps, brochures, events, tourism packages, and other information related to visiting the Niagara Falls. Visitors can also download the digital travel kit, for essential information on accommodation, border crossing, travel resources, itinerary guides, destination sightings, accessibility, parking, and emergency services.
Niagara Falls is all about the breath-taking epic views, from the best vantage points, and includes the mind-boggling bird's eye view, from a helicopter at 457 meters above the waterfalls. Other not-to-miss vantage points include the Skylon Tower, Zipline to the falls, Niagara SkyWheel, Journey behind the fall and the exciting Hornblower Cruises. Likewise, a trip to the Niagara Falls is never complete without the spectacular fall's fireworks and nightly illumination, that attracts hordes of visitors on all seasons, and specifically during the winter festival of lights.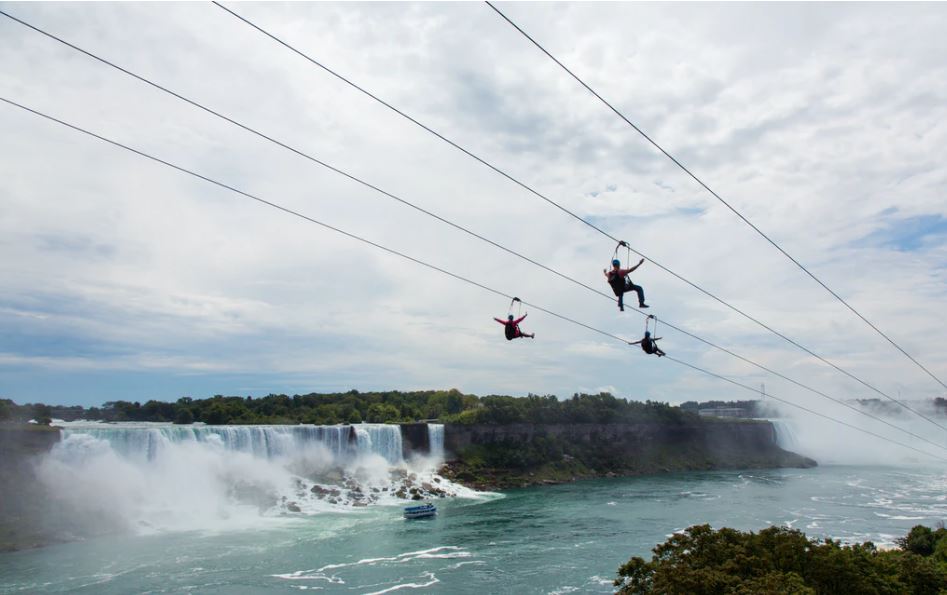 Open all year round, summer and autumn is undoubtedly the best time of the year to explore the city attractions, outdoor festivals, visiting historic sites and theme parks, taking a stroll in the neighborhoods, enjoying culinary delights, wine tasting and zip lining. Equally, spring season ushers' spectators around the pristine gardens such as Centennial garden, Oaks garden, and the botanical gardens surrounding the Niagara Falls. Winter marks the start of off-season, although the crowd lingers on for the winter festivals, and to capture the sheer beauty of the Niagara Falls covered in sheets of ice and snow.
Entry is free for all at Niagara Falls, with free visits to Dufferin Islands, Floral Clock, Niagara Glen and the Botanical Gardens, while surrounding attractions require paid tickets. Online booking of tickets includes the best attraction passes for all ages, and saves up to 30% off on attractions, all year round. The Adventure Pass offers the best value for money and is a one-time admission to explore the top attractions of Niagara Falls at $67 for adults over 13+, and $44 for children aged 6-12, and includes WEGO transportation for two consecutive days.  
U.S currency and Canadian dollars are accepted locally, and accommodation expenses start from $49 – $120 per day and ideal expenses for a couple are $1,219 per week. Visitors require a valid passport unless aged 15 and below, while children below 15 only require a birth certificate, if travelling by land. For more information about getting around, attractions, detours, and other travel updates, contact the visitor's information center at Ontario and browse their official tourism website for hotel listings, coupon deals, and latest schedule of events. For complaints or queries on tickets, cancellation, events, photography, or others, reach the Niagara Falls Tourism support.