Contact Mysore Palace: Find below customer service details of Mysore Palace, Karnataka, including phone and email. Besides contact details, the page also offers a brief overview of the tourist landmark.
Address
Mysore Palace
Sayyaji Rao Rd, Agrahara, Chamrajpura,
Mysuru, Karnataka 570001
Directions: Google Maps
Support
Phone: 0821 242 1051
Phone: 0821 243 0404 (palace security)
Email: [email protected]
______
About Mysore Palace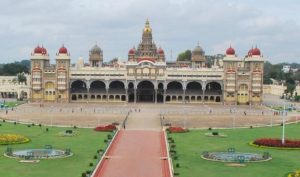 An outstanding architectural and iconic structure, the historical Mysore Palace is the royal seat of the Wodeyar dynasty, and the official residence of the royal family of Mysore, in the princely state of Karnataka in Southern India. Designed by the English Architect Henry Irwin, the Mysore Palace is over 500 years old, built during the rule of Maharaja Krishnaraja Wodeyar IV, in the 14th century.
Hailed as the City of Palaces, Mysore is a popular holiday destination, highly known for heritage Palaces, old forts, temples, hidden caves, wildlife, and the state festivities of Dasara. The Amba Vilas Palace, simply known as the Mysore Palace, attracts nearly 3.5 million visitors every year, and is the second most often visited travel destination in India, after the Taj Mahal.
Constructed on a sprawling 72 acres, and built over a period of 5 years, the Mysore Palace is a fine example of Indo-Saracenic architecture, infused with intricate design elements from the Hindu, Rajput, Muslim, and the Gothic architecture. The pink marble domes, adorning the four arched gateways, are a signature design element of Indo-Saracenic architecture, and are the most attractive features of the Mysore Palace.
Built using stone and gray granite, the 3-storied Palace towers at 145 feet, crowned with a 5-storied gold plated dome structure. The Palace interiors is an ethereal visual treat, with ornate hallways, carved ceilings of mahogany, intricately colored stained glass windows, cupolas, archways, and glazed mosaic floors. On the inside, the Durbar Hall, the Kalyana Mandap, the royal elephant throne and the Amba Vilas are some of the treasured rooms, worth seeing in the Palace. During the week-long festival of Dasara, Mysore Palace is illuminated by staggering 100,000 light bulbs.
The Mysore Palace is open all days of the week, from 10:00am-5:30pm for visitors, and remains closed on Sundays and public holidays. Entry is free for visitors to watch the Mysore Palace lighting, from Mon-Sat between 7:45pm-8:00pm after the sound and light show, and from 7:00pm -8:00pm on Sundays, national holidays, and state festivals.
Entry tickets are available, only at the Southern Gate of the Mysore Palace, and online booking is currently unavailable. Tickets for the Palace entrance cost Rs 70 for adults, and Rs 30 for children aged 7-12, and free for kids below 7 years. Audio guides and guided tours are available for visitors at a nominal fee. There might be an additional fee for those carrying professional cameras. For more information or queries on timings, tickets, events, cancellation, parking, or others, reach the Mysore Palace support.