Contact MWEB: Find below customer service details of MWEB, South Africa, including phone and email. Besides contact details, the page also offers a brief overview of the company.
Head Office
Internet Solutions Digital (Pty) Ltd
MWEB Building, 100 Fairway Close
Parow 7500, Cape Town, South Africa
Customer Service
Phone: 087 701 2100
Phone: +27 21 596 8300
Phone: 087 700 5000 (sales)
Phone: 087 700 0777 (technical)
______
About MWEB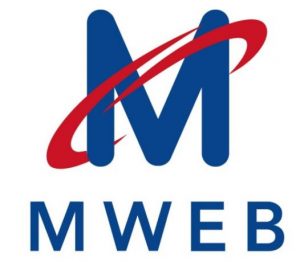 MWEB is a South African telecommunications company established in the year 1997. Headquartered at Cape Town, MWEB is currently the second largest Internet Service Provider (ISP) in the country with an array of exciting products and services. The company had its humble beginnings with the launch of Big Black Box, an easy plug-and-play Internet connectivity solution. Later it began to add new products to its offering. In 2003, MWEB launched WiFI and in 2010 the company introduced uncapped ADSL. It was apparently the first ISP to offer a flat rate broadband connection. MWEB's current offerings include Fibre, LTE and ADSL connectivity. MWEB also offer individuals and business customers website hosting, premium mailbox and VoIP solutions. As of 2019, MWEB boasts of more than 350,000 customers.
Those looking to subscribe MWEB's products can reach the customer support via phone, visit nearest office or browse the website for details. You can check if MWEB has coverage in your area before considering a plan. Enter your address online and the Coverage Check tool will tell you if there is connectivity in your area. The major infrastructure providers for Fibre connections include Lightstruck, Century City, Link Africa, Vuma, Metro Fibre, Frogfoot, Octotel, and Mitchells Fibre. Each of them offers an array of fibre plans. You can choose one according to the usage requirement. You have uncapped plans starting with speed of 20Mbps to upto 1Gbps. With a 100Mbps plan you can download a movie in HD quality in a jiff. Do explore the deals offering free installation and router. The fixed line connectivity is served through fibre optic cables making it fast and reliable. The installation is managed by the infrastructure providers.
As for LTE connection, MWEB's main infrastructure provider has been Telkom. LTE as you know is easy to install and does not require a fixed line. To connect to Internet using the mobile broadband technology, you only need a router and SIM card. Speeds depend on network conditions. MWEB says on average you can expect up to 30MBps speed. Coming to ADSL, it is one o the most widely used and works through copper cable infrastructures. A landline connection is needed for ADSL to work. Users will need an ADSL Router to get connected to the Internet.
Existing customers can sign in to their account to view and manage products. Once signed in, you can check usage, see bills and request for technical assistance. For complaints or queries on new connection, cancellation, refund, career, or others, reach the MWEB support.