Contact M&M's World: Find below customer service details of M&M's World, including phone and email. Besides contact details, the page also offers a brief overview of the retail store.
Address
New York
1600 Broadway
New York, NY 10019
Phone: 212-295-3850
Las Vegas
Showcase Mall
3785 South Las Vegas Blvd
Las Vegas, NV 89109
Phone: 702-740-2504
Orlando
Florida Mall
8001 S. Orange Blossom Trail
Suite 1132, Orlando, FL 32809
Phone: 407-850-4000
London
Leicester Square
1, Swiss Court
London W1D 6AP
Phone: 0207 025 7171
Shanghai
G Floor Shimao Festival City, No. 829
Nanjing East Road, Shanghai
Phone: +86 2316 2888
Customer Service
Phone: 1-888-696-6788 (US)
Email: [email protected]
_____
About M&M's World
M&M's is indisputably one of the biggest selling chocolate brands. Kids and adults who love the brand can visit exclusive M&M retail stores called M&M's World. It is the ultimate destination for M&M's candy lovers to purchase chocolates, and also  apparel, toys and other merchandise. Find M&M's World stores at Times Square, New York; at Showcase Mall, Las Vegas; The Florida Mall, Orlando; and at Leicester Square, London.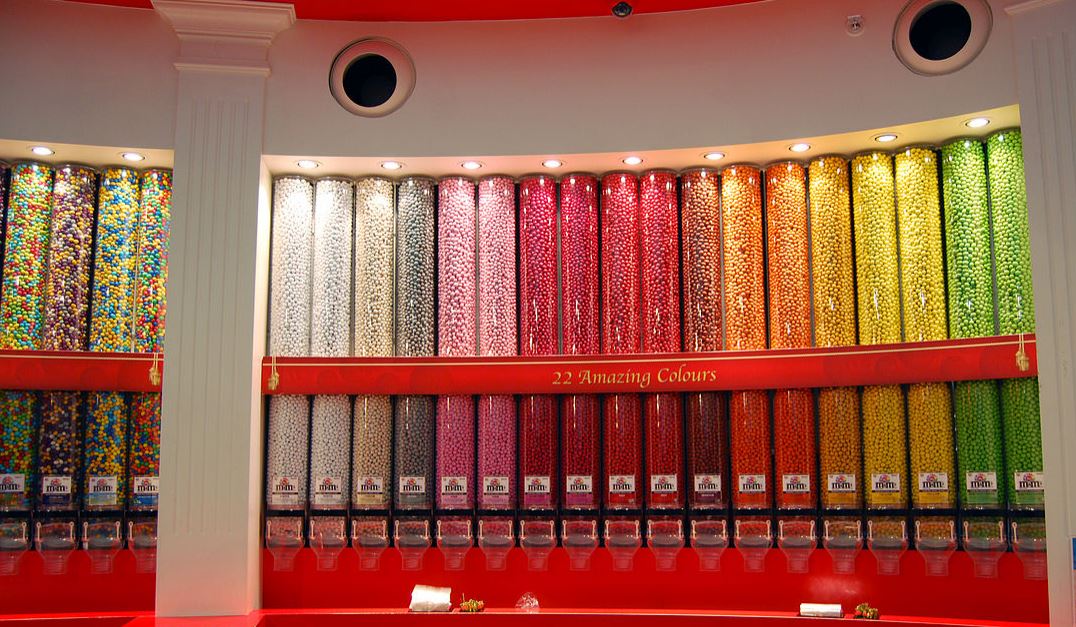 The M&M's World store at London reportedly is the world's largest candy store. It is spread across 35,000 sq ft. The store at New York is located at the heart of Times Square. The three-level iconic glass store is spread across 24,000 sq ft. M&M's World's first store however was at Las Vegas. The four-story building also includes a 3D movie theater and is visited by millions each year. Part of Mars Retail Group, it was opened in the year 1997. Venturing outside the US, M&M's in 2014 even opened one in Shanghai, China.
AT M&M's World stores you can find chocolate candies in more than 22 colors and flavors such as chocolate, peanut and almond. You can buy packets of candies or mix different colors through the dispensers. Also buy candies with packets designed for special occasions such as Christmas, congratulations, anniversary or romance. You can further personalize M&M's from an array of colors, themed clip-art images, a photo or a personal message.
When at the store, also find a dedicated section full of apparel and fashion accessories. You can shop for tshirts, tops, jackets, caps and footwear for men, women and children. Additionally, also find tabletop, kitchen items, drinkware, dispensers, travel accessories and stationery. If you prefer to shop for candies and merchandise online, M&M's operates an ecommerce channel where you can purchase using a Visa or MasterCard. M&M's currently ships only to addresses in the US or Canada. There is a separate store catering to shoppers from Europe.
M&M's World stores are open from 9am to midnight. Visitors will be greeted by their favourite M&M's characters throughout the complex. You can shake a hand or take a picture with your M&M's character. If visiting M&M's World first time, you can get store information on the website. The opening and closing hours vary for weekdays and weekends. For complaints or queries on store locations, payment, cancellation, refund, or others, reach the M&M's World support.