Contact Miele: Find below customer service details of Miele in Germany and worldwide, including phone and email. Besides contact details, the page also offers a brief overview of the company. Reach the customer service below for support, complaints or feedback.
Head Office
Miele & Cie KG
Carl-Miele-Straße 29
D-33332 Gütersloh
Germany
Email: [email protected]
Customer Service – US
Phone: 888-99-MIELE
Phone: 888-99-64353
Phone: 800-991-9380
Email: [email protected] (Miele Professional)
Global Contacts
Phone: +61 3 97647-100 (Australia)
Phone: +43 50 800-0 (Austria)
Phone: + 32 (02) 451 16 16 (Belgium)
Phone: +1 905 532-2270 (Canada)
Phone: +86 21 61573500 (China)
Phone: +420 543 553-111-3 (Czech Rep)
Phone: +45 4327 1310 (Denmark)
Phone: +33 1 4939-4400 (France)
Phone: 05241 89-0 (Germany)
Phone: +36 1 8806-400 (Hungary)
Phone: +852-2610-1331 (Hong Kong)
Phone: +39 0471 666-111 (Italy)
Phone: +353 1 4610710 (Ireland)
Phone: +603 6209 0288 (Malaysia)
Phone: 01 800 MIELE 00 (Mexico)
Phone: +31 347 378-911 (Netherlands)
Phone: +48 22 548-4000 (Poland)
Phone: +351 21 4248-100 (Portugal)
Phone: +7 495 745-8990 (Russia)
Phone: +65 6735-1191 (Singapore)
Phone: +34 902 398 398 (Spain)
Phone: +27 11 875-9000 (S.Africa)
Phone: +46 8 56229-000 (Sweden)
Phone: +41 800 800 222 (Switzerland)
Phone: +90 216 687 18 00 (Turkey)
Phone: 800 MIELE /64353 (UAE)
Phone: +44 0330 160 6600 (UK)
Phone: +38 044 4960300 (Ukraine)
____
About Miele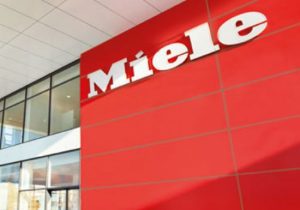 Miele is a luxury brand of home appliances that is headquarteed at Gutersloh, Germany. Founded by Carl Miele and Reinhard Zinkann in 1899, Miele employs more than 20,000 globally, a large number of them in Germany alone. The German company manufactures domestic appliances and commercial equipment sold directly in 47 countries. It also has a wide reach through the dealer and distributor network. In FY 2017, the company posted sales of €4.1 billion.
The high-end appliance manufacturer operates through it's subsidiaries in Austria, Belgium, Czech Republic, Croatia, Bulgaria, Greece, UK, Norway, Italy, Ireland, Hungary, Poland, Portugal, Romania, Russia, Serbia, Spain, Sweden, Switzerland, Turkey, Ukraine, Canada, Mexico, US, Australia, New Zealand, South Africa, China, India, Hong Kong, Korea, Malaysia, Thailand, Singapore and UAE. A major number of the production facilities are located in Germany's Arnsberg, Bielefeld, Bunde, Euskirchen, Gutersloh, Lehrte, Oelde and Warendorf. It also has a facility in China, Austria, Romania and Czech Republic.
Miele products are known for it's great design and top-notch quality. It has won several awards for it's innovation in technology and performance. Miele's product lineup includes ovens, cookers, microwave ovens, steam ovens, vacuum drawers, induction hobs, electric hobs, gas hobs, cooker hoods, ceiling fan, range hoods, downdraft systems, coffee machines, refrigerators, fridge-freezers, dishwashers, washing machines, tumble dryers, washer-dryers and vacuum cleaners. There are equipment and products for commercial laundries, laboratories and hotels. You will also find accessories for vacuum cleaners, hobs, cooker hoods, refrigerators, freezers and washing machines.
To locate a Miele store, you can visit the website. Those in the US and some other regions can order a Miele vacuum cleaner, dishwasher or refrigerator online. Purchases can be made using Visa or MasterCard. You can opt for standard or express shipping during checkout. Customers have a 15 day return policy. Users can browse through product categories, download manuals, compare products and get details on installation. Note that warranty varies according to product type. Shoppers can purchase extended service contracts for most products. Register your product on the website to keep track of purchase, repair or warranty. If your product experiences a failure or breakdown, locate a service center where you can request for repair or replacement. If interested in a career with Miele, explore the careers section on the website to know the job openings and benefits. You can also submit an application through the e-portal. For more information or queries on registration, refund, payment, cancellation, repair, career/jobs, or others, reach the Miele support.