Contact Merrion Square: Find below customer service details of Merrion Square, Dublin, including phone and email. Besides contact details, the page also offers a brief overview of the park.
Address
East End of Nassau St,
Dublin 2, Ireland
Support
Phone: +353 01-6612369
Email: [email protected]
_____
About Merrion Square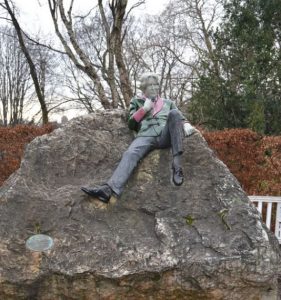 One of the grandest and well preserved, amongst the five existing Georgian park squares, is the picturesque Merrion Square, a popular and historic landmark in the Dublin City center. With modest beginnings, as a private park of 11.7 acres for aristocratic residences, the layout adopts the 'English Landscape' style for its ornamental garden. Merrion Square stands bordered on the three sides, by the Georgian façade of red brick townhouses, and has the Leinster Residence, a gallery and a museum on the fourth side.
Established in 1762 by the Duke of Leinster, the Georgian townhouses surrounding the park have uniformity of scale and architectural design, that dates back to over 250 years. In 1960, the private park was open to the public, and restored to preserve the Georgian architectural style, by the Dublin Corporation. Notable Irish residents of Merrion Square, in the 19th century include Oscar Wilde, W.B Yeats, and Daniel O'Connell. Formerly known as the Archbishop Ryan Park, the site was initially a church property of the Roman Catholics, before handing it over to the Dublin City Council.
Busiest during the summers, visitors can lounge in the wide and well-maintained lawns and, go on leisure walks surrounding the ornamental garden, the sunken pathways, and the curved grasslands, whilst enjoying the scenic redbrick façade of Georgian townhouses. Merrion Square is close to St. Stephen's Garden, and with ease of access to nearby places of interest, such as the National Gallery of Ireland, and the National History Museum, over 2 million people visit the Merrion Square every year.
Sculpted by Danny Osborne, the statue of Oscar Wilde, a notable Irish poet, is the focal point of attraction in Merrion Square. Colorful with vivid textures, the statue is a visitor's favorite amongst, other the abundant sculptures scattered all over the park. The Rutland Memorial is yet another stone sculpture of Charles Manners, the 4th Duke of Rutland and, visitors can see the various types of streetlights that adorned, the streetscape of Dublin City, dating back to over 100 years.
The park is open to the public during the daylight hours, and there is no charge for entry to visit the park. Visitors can access public restrooms at the History Museum, as the park has very less facilities, other than a sheltered lawn and a playground for children. Artists display their artwork on the railings of the park on Sundays, and various street food stalls for lunch, are set up on Thursdays between 11:30am -2:30pm. For more information or queries on timings, tickets, events, parking, or others, reach the Merrion Square support.