Contact MeetMe: Find below customer service details of MeetMe, including phone and email. Besides contact details, the page also offers an overview of the social networking site and its services. Reach the MeetMe customer service below for queries, complaints or feedback.
MeetMe Head Office
100 Union Square Drive
New Hope, PA 18938
United States
MeetMe Customer Service
Phone: 1-215-862-1162 (general)
Email: [email protected] (for advertising)
_____
About MeetMe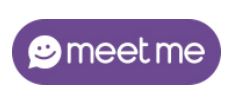 MeetMe is a social networking website that allows users to make friends through social games and apps. The service receives a chunk of its traffic from mobile. The website has over 1 million daily active users. Operated under MeetMe, Inc., the company is headquartered in New Hope, Pennsylvania. The company's apps are available on iPhone, iPad, Android and Windows Phone and comes in all major languages. The service was formerly known as myYearbook.
Members can sign up with email or link an existing Facebook account to get started. Through the service, users can make friends, date or even play video games. The service is free to join. To have a highlighted profile, users can purchase the 'Spotlight' services. MeetMe's revenue model is made up of advertising, native advertising, virtual currency, and subscription. In 2015, the company had revenue of $56.9 mn.
MeetMe in fact is currently ranked among the top 100 social apps in 150 countries. It's technology also allows users to discover people nearest to their location and in particular, those with similar interests. Registered members can search friends through location, age, or by online status. Using the settings option, users can further manage the notifications, premium services and privacy options. Under privacy, one can block users, restrict profile views, messaging, among others. For more information or queries on profile management, payment, technical problems or others, reach the MeetMe customer service.