Find below customer service details of Medlife, India. Besides contact details, the page also offers a brief overview of the company.
Head Office
Medlife Wellness Pvt Ltd
5th & 6th Floor,
Vaswani Centropolis,
Langford Road, Shanti Nagar,
Bengaluru 560027
Customer Service
Phone:1860-1234-1234
Email: [email protected]
Email: [email protected]
______
About Medlife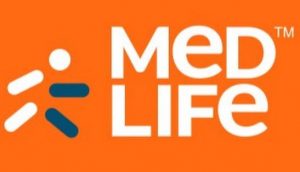 Making healthcare simple and accessible in India is Bengaluru-based Medlife. Founded by entrepreneurs Prashanth Singh and Tushar Kumar, the tech-enabled platform is disrupting the online healthcare space through innovative solutions. On the Medlife website and smartphone app, customers can order pharmacy, schedule doctor appointment and book lab tests. The service is available for customers across 29 states. Pharmacy and healthcare products can be ordered for delivery in more than 4,000 cities. Founded in 2014, the online healthcare company boasts of more than 100 million customers. Each day it handles over 40,000 deliveries. For fiscal year 2019, the company reported operating revenue of Rs 363 crore.
Searching of medicines and products can be made using the search or by navigating the categories. To place an order on the web or Medlife app, you will be asked to first upload prescription and schedule delivery. You will find a wide range of medicines, available at a low-cost price. Most medicines are delivered within 24 hours. And for those who dont have a prescription, you can consult with doctors online and use prescription for purchase. You can purchase baby and mom care products, personal care and nutrition products instantly. Other products you can purchase include health supplements, medical devices, accessories, diabetes care products, and herbal products. Like all ecommerce platforms, you can filter products by brand and price. The product pages have details on the price and discounts, overview, and key ingredients.
Purchases on the Medlife platform can be paid using debit/credit card, digital wallet, and cash on delivery. Delivery of medicines are done 7 days of the week. In cities where Medlife has a warehouse, same day delivery is made possible. All medicines are packaged in sealed boxes. Refrigerated items are packed with ice gel packs. Want to return an item? Customers have up to 30 days to return the item for exchange or refund. Refrigerated products must be returned within 24 hours. Note that certain products do not carry the same cancellation terms.
As for booking doctor consultation online, there are more than 1,000 specialty doctors you can consult within an hour. More than a million patients have already consulted through the platform. Consultation can be made via voice, chat or video. Patients get free follow-ups for a week post-consultation. Doctors listed on the platform are selected only after strict screening. You can can search a doctor by name or specialty like cardiology, homeopathy, oncology, neurology, and ENT. The doctor profiles have details of education, years of experience and languages spoken. Besides doctor appointment, customers can book lab tests like CBC, Thyroid Profile, Basic Health Checkup, Master Full Body Checkup and more. For complaints or queries on prescription, shipping cancellation, refund, or others, reach the Medlife support.