Contact Mattancherry Palace: Find below customer service details of Mattancherry Palace, Kochi, including phone and email. Besides contact details, the page also offers a brief overview of the tourist landmark.
Address
Mattancherry Palace,
Mattancherry, Kochi,
Kerala 682002
Support
Phone: 0484 606 8716
Phone: 1-800-425-4747 (Kerala Tourism)
Directions: Google Maps
______
About Mattancherry Palace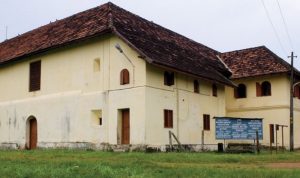 Kerala, the land of God's own country, steeped with an exotic culture of traditions, is a dream destination for globetrotters, and home to the restored vernacular styled Mattancherry Palace, along the Malabar Coast of South India. Declared as a protected heritage monument in 1951, the double-storied Palace is home to artifacts of the royal Cochin family, since 1864. The Mattancherry Palace, popularly addressed as the Dutch Palace, and built by the Portuguese in 1545, is an endowment to King Veera Kerala Verma of Cochin.
With an illustrious history of the pre-colonial and post-colonial rule, the Palace displays some of the finest mythological murals. The 17th-century murals, painted in rich warm colors, portray the celebrated Indian epics, covering an area of 300sq.km. Amongst them, the mural painting of the chronicles of Ramayana, in the Royal Bed Chamber, is a visual treat to the eyes.
Built as a double-storied edifice, Mattancherry Palace is elegantly styled in the traditional Nalukettu, a typical vernacular architecture of Kerala. A Nalukettu is a quadrangle layout of four individual wings, with a central courtyard. The ground floor has the Women's resting chamber, and upstairs are the lavishly huge Coronation hall, the Royal Bed Chamber, the Dining Hall, the Assembly Hall, and the Kovinithalam (Staircase Room).
Treasures on display at the Mattancherry Palace include the antiquated Dutch Maps of Colonial Kochi, royal palanquins of teak wood, and coronation robes of Kings, the royal umbrellas of gold and silk for ceremonial processions, the antique furniture, and weapons, the life-size portraits of Cochin Kings, the royal sword, and many others. The notable architectural features of the Palace are the wood carved ceilings with a lotus design, and the polished black marble flooring, made of burnt coconut shells, limestone, vegetable dyes, and egg whites.
Easily accessed by rail, ferry, road, and air, the Palace is 12 km from the Ernakulam railway station, and 42 km from the Cochin International Airport. Open on all days of the week, from 9:45am-1: 00 pm, and 2:00pm-4: 45 pm, the Palace remains closed on Fridays and Saturdays. Best visited during the months of May-Aug, the entrance ticket to the Palace costs INR 2 rupees, and is free for children below 15 years. Other places of interest nearby the Palace, are the Jewish Synagogue and the Chinese Fishing Nets. For more information or queries on tickets, timings, events, parking, or others, reach the Mattancherry Palace support.