Contact Manas National Park: Find below customer support details of Manas National Park, Assam, including phone and email. Besides contact details, the page also offers a brief overview of the tourist destination.
Address
Manas National Park
Manas Road, Barangabari Gyati Village,
Dist Baksa, Gobardhana, Assam 781315
Directions: Google Maps
Support
Phone: 03666-260250 (Field Officer)
Phone: 0361-2730337 (Environment & Forest Dept, Assam)
Phone: 0361-2547102 (Directorate of Tourism)
Email: nil
_______
About Manas National Park
Manas National Park is a wildlife sanctuary in Assam, situated in the foothills of the Bhutan-Himalayas. Established in the year 1990, the park is managed by the Government of India's Ministry of Environment and Forests. Popular for being an elephant and tiger reserve, the national park is also known for its rare and endangered species. Lying alongside the Manas River, the park is also recognised for its rich biodiversity. The forests, once inhabited by the Bodo, Adivasi and Rajbongshi communities, became a UNESCO World Heritage Site in 1985.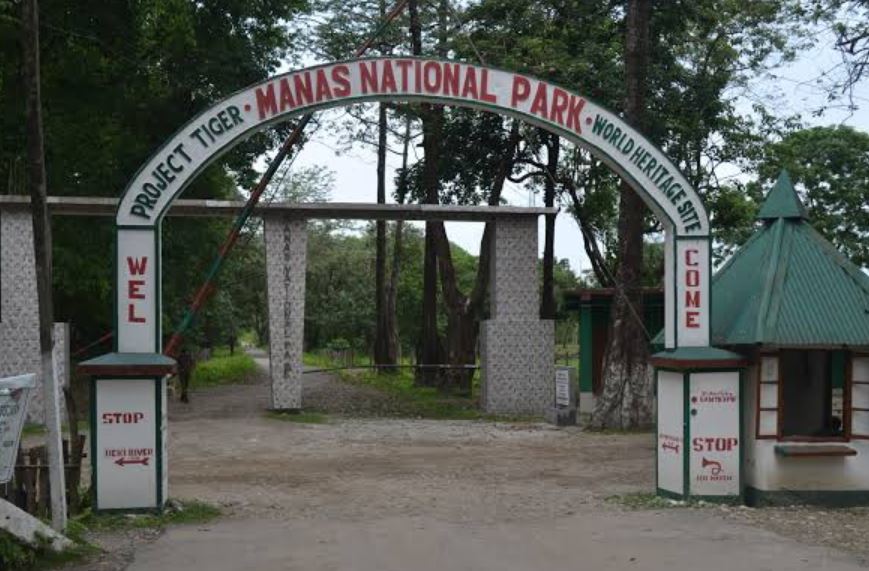 Visitors to the park will find a Biosphere Reserve as well as Important Bird Areas (IBA). Overall there are 60 mammal species, 42 reptile species, 7 amphibians and 500 species of birds. Manas National Park further provides habitat for 22 of India's most threatened animals, including one-horned rhino, swamp deer and pygmy hog. Other animals include leopards, Asian golden cats, hoolock gibbons, otters, sloth bears, gaurs, barasingha, capped langurs and Assamese macaques. According to Wikipedia, the park also hosts the largest population of Bengal florican. Other bird species you will find include crested serpent eagles, fishing eagles, harriers, bulbuls, jungle fowls, pied hornbills, mergansers, ospreys and herons.
Covering an area of 39,100 hectares, the park remains open from October to May every year. It is advised to not plan your trip during monsoon as the park experiences heavy rainfall and even floods. You can plan jeep safaris, river rafting and jungle tours through agencies. As for travel, Barpeta Road is the nearest town. If travelling by air, you can alight at Guwahati International Airport. Those that prefer train from Guwahati can check for stops at Barpeta Road Railway Station. The park is divided into three ranges – one at Panbari, the other at Bansbari and the third at Bhuiyapara.