Find below customer service details of Mahatma Gandhi Bus Station, Hyderabad. Besides contact details, the page also offers a brief overview of the bus terminal.
Address
Mahatma Gandhi Bus Station
Imlibun, Gowliguda,
Hyderabad, Telangana 500095
Customer Service
Phone: 040 24614406/ 24614408 (bus terminal)
Phone: 040 30102829/ 68153333 (TSRTC)
Email: [email protected] (ticket queries)
______
About Mahatma Gandhi Bus Station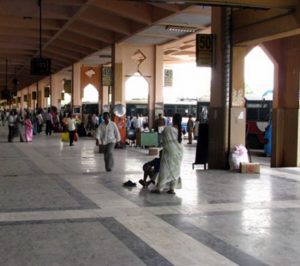 Mahatma Gandhi Bus Station (MGBS) is a major transport hub in the city of Hyderabad, Telangana. Also popular as Imlibun Bus Station, the terminal opened in the year 1989. Spread across 30 acres, the MGBS is one of the three largest bus terminals in the country. It is situated right on the Imlibun island on the Musi River. There are both local and inter-state buses that originate at the bus stand. It is owned and maintained by the Andhra Pradesh State Road Transport Corporation (APSRTC). There are currently 79 platforms on the bus terminal.
Facilities at the bus terminal include parking space, convenience stores, book stalls, ATMs, and food stalls. You will find a really large shopping complex, adjacent to the complex. For the comfort of commuters, there is also a waiting hall with restrooms. Like all other terminals, you have computerized reservation counters, help desks, state of the art security and television screens.
The MGBS is one of two major bus terminals serving commuters in Hyderabad, the other being Jubilee Bus Station. There are Vennela, Garuda and Palle Velugu buses that have its origin here at the terminal. There are also APSRTC and other state buses connecting to Karnataka, Orissa, Tamil Nadu and Maharashtra. Neighboring cities connected include Anantapur, Puttaparthi, Guntur, Nalgonda, Vijayawada, Tirupati, Visakhapatnam, Kakinada, Nellore, Warrangal, Khammam, Karimnagar and Chittoor. Visit the TSRTC website to view the Time Table with schedule of buses. The website also allows commuters to book bus passes and etickets.
To plan your journey, input the origin, destination and dates to see the availability. Tickets can be booked online through debit or credit card. You can sign in to your account on TSRTC web or app to view recent reservations. You can also cancel your ticket online. Refund will be processed in the original payment method. There are no extra charges and fees besides the actual ticket cost. Upon payment confirmation, a copy of ticket will be sent to email provided when booking. If a bus was cancelled by TSRTC, commuters are eligible for full refund. You also can track the bus online. Bus types found include Vennela (AC Sleeper), Garuda Plus (AC Semi Sleeper Multi Axle), Garuda (AC Semi Sleeper), Indra (2+2 AC Semi Sleeper), Super Luxury (2+2 non-AC Pushback), Deluxe (non-AC) and Express (non-AC).