Find below customer service details of Kempegowda Bus Station, Bengaluru. Besides contact details, the page also offers a brief overview of the bus terminal.
Address
Gubbi Thotadappa Rd,
Kempegowda, Gandhi Nagar,
Bengaluru 560009
Support
Phone: 080 49596666 /9449596666 (KSRTC helpline)
Phone: 7760991057
Email: [email protected] (BMTC complaints)
______
About Kempegowda Bus Station
The Kempegowda Bus Station is a popular transport hub in Bengaluru, connecting commuters across the city and inter-state. Also popular as Majestic Bus Station, the large bus terminal is located at Gandhi Nagar and is operated by the Karnataka State Road Transport Corporation (KSRTC). The bus terminal became popular as Majestic bus stand after borrowing its name from a cinema theatre around the place. Opened in the year 1980, the bus terminal stands on a dried up lake called Dharmabudhi. Other popular satellite bus stations serving commuters in Bangalore consist of the Mysore Road Satellite Bus Station, Shantinagar Bus Station and Peenya Satellite Bus Station.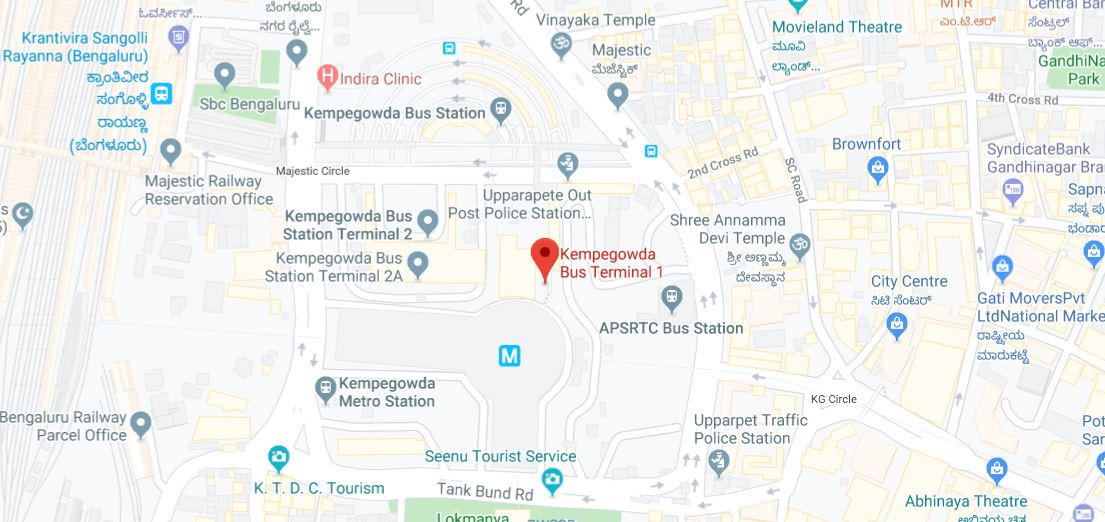 The enormous Majestic bus station is crowded with people throughout the day. Centrally located, the station is the point for many bus routes to start as well as end. There are a number of platforms with buses leaving to different corners of Bengaluru every ten minutes. According to sources, there are close to 8,600 buses transporting more than 8 lakh passengers each day. There is an underpass or subway covered by street merchants. The underpass connects commuters to the Bangalore City Railway Station.
Within the Majestic bus terminus are two sections, one for local buses and other dedicated for out station buses. Only buses operated by the BMTC and KSRTC are allowed. The KSRTC operates the Airavat fleet for comfortable journeys to and from important cities like Chennai, Coimbatore, Ernakulam, Mumbai, Pune, Hyderabad, Tirupathi, among others. The timetable is published on the KSRTC website. You also have the option to book tickets, track bus and enquire PNR status online.
As for facilities at the bus stand, commuters will find reservation counters, information systems, parking facility, waiting lounge, information desks, ATMs, restaurants, small eateries and book stalls. Shopping addicts can head to the Majestic Market, right around the bus terminal, for street shopping of local and exported merchandise. There is also a walkway and foot-over bridge linking the city bus stand to interchange metro station. The Kempegowda Majestic Metro Station has been in operation since 2016. It is said to be the second largest metro station in Asia and allows passengers to easily transfer between the Purple Line and the Green Line.