Contact Kaziranga National Park: Find below customer service details of Kaziranga National Park, including phone and email. Besides contact details, the page also offers a brief overview of the tourist attraction.
Address
Kaziranga National Park,
Bokakhat, Golaghat District,
Assam 785612
Directions: Google Maps
Support
Phone: +91-3776 268095 +91-3776 268007 (general)
Phone: +91-361- 2547102 / 2542748 (Directorate of Tourism)
Email: [email protected] (general)
Email: [email protected] (Nagaon Deputy Commissioner office)
_____
About Kaziranga National Park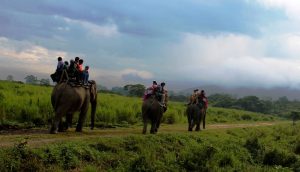 An unsurpassed utopian paradise of nature, the Kaziranga National Park is the most sought after wildlife holiday destinations in India, for nature and wildlife. Founded on the proposal of Mary Curzon, Kaziranga turned into a forest reserve, from a modest area of 230 km2, to protect the declining species of the greater one-horned rhinos. Nestled around the tributaries of the River Brahmaputra, the park attracts nearly 82 percentile of visitors every year, in Assam.
Bordered between the Eastern Himalayan biodiversity hotspots of Golaghat and Nagaon district in Assam, the present-day Kaziranga National Park is a wildlife sanctuary of 430 km2, and is globally famous for the one-horned rhinos (or Indian Rhinos), from being extinct. Initially at the brink of extinction, the greater one-horned rhinos are a conservation success in India, with a steady increase from 600 endangered species, to a thriving 2200 rhinos at Kaziranga in 2015.
Declared as a National Park in 1974 by the Indian Central Government, Kaziranga is an ideal breeding ground for elephants, tigers, birds, deer, rhinos, and many others, owing to its rich environmental habitat. In 1974, UNESCO put Kaziranga on the global map, by listing the park as a World Heritage Site, and over the years, with the increase in number of tigers, the government declared Kaziranga as a tiger reserve in 2006.
Densely rich with alluvial grasslands, tropical evergreen and deciduous forests, Kaziranga is home to migratory birds such as Asian openbill Stork, and the Black-necked Stork from Central Asia, and also to Sloth bear, swamp deer, Leopard, and wild buffaloes. Elephant safari rides are the highlight of the park tour, and is the best option to spot rhinos than Jeep Safari, and winters are the best season from Nov-Feb, to spot one-horned rhinos and bird watching tours.
Kaziranga Park is open all days of the week, from Nov- April, and closed from May-Oct, as the River Brahmaputra floods during the monsoon season. The park is best to explore on a jeep and elephant safari tour, lasting around 2 hours, starting from 5:30am-7.30pm. The nearest airport and metro station is at Guwahati, surrounded with multiple choices of hotels, and easy access of public transportation for visitors all-round the year.
Entry fee costs 100 Rs for Indians, and 650 Rs for non-nationals, and elephant safari costs 900 Rs for Indians, and 1,950 Rs for non-nationals. The fee for photography, video filming, and tollgate is exclusive of entry fee, and a jeep safari ride costs anywhere from 1,750 Rs – 2,750 Rs. For more information or queries on tickets, timings, parking, or others, reach the Kaziranga National Park support.