Contact Kanpur Central: Find below customer service details of Kanpur Central, including phone and email. Besides contact details, the page also offers a brief overview of the railway station.
Address
Central Station,
Jaipuria Road, Rail Bazar,
Harris Ganj, Mirpur, Kanpur,
Uttar Pradesh 208004
Directions: Google Maps
Support
Phone: 139
Phone: 1800-111-139
Phone: 1800-111-322 (security)
Email: [email protected] (Chief Administrative Officer – North Central Railways)
Email: [email protected] (IRCTC support)
______
About Kanpur Central Station
Kanpur Central is a major railway station that serves commuters in Kanpur, Uttar Pradesh. One of the busiest railway stations in the country, Kanpur Central boasts of 10 platforms and 14 tracks. Formerly called Cawnpore North Barracks, Kanpur Central boasts of catering to more than 2 million passengers each day. The station code is CNB and serves both commuter rail and intercity rail. More than 600 trains pass through the Kanpur Central station each day. It falls under the North Central Railway zone and Allahabad division. Opened in the year 1930, Kanpur Central is managed and operated by the Indian Railways.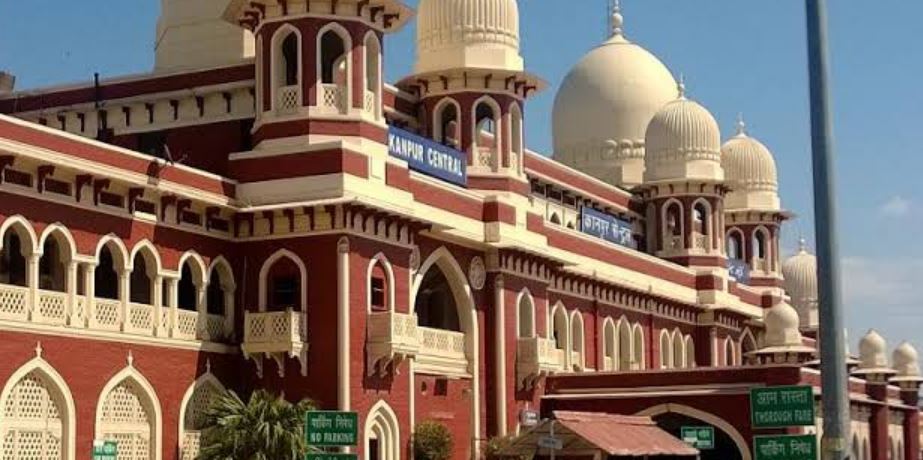 Commuters can connect to and from Kanpur to Agra, Ghaziabad, New Delhi, Allahabad, Howrah, Unnao, Lucknow, Raebareli, Ranchi, Balamau, Sitapur, Jhansi, Mumbai, Chitrakoot, Govindpuri, Farrukhabad, Mathura, among others. Some of the popular trains that stop here include Mahananda Express, Kolkata Rjdhni, KGM CNB Express, Rjpb Rajdhani, Sealdah Rjdhani, Dbrt Rajdhani, Bbs Rajdhani Express, Bubneswr Rajdhani, W B Smprk Krnti, Bihar S Kranti, Orissa S Krnti, Ljn Garib Rath, Rnc Garib Rath, Bgp Garib Rath, Lal Quila Express, Kota Pnbe Kota Exp, Farakka Express, Brahmputra Mail, Chitrakoot Kanpur Express, Link Express, Marudhar Express, Chitrakut Exp, Kanpur Kasganj Express, Guwahati Express, Lucknow Exp, Cnb Intercity, Ald Intercity, Ljn Pune Exp, Ljn Intercity, Kaifiyat Express, Ananya Express, Gomti Express, Pushpak Express, Vaishali Express, Kanpur Allahabad Passenger, Adi Patna Special, to name a few.
Kanpur Central has all the passenger-friendly amenities found in other stations. You have computerized ticketing counters, waiting rooms, food stalls and book stands. The departure board will display the trains that are set to leave or arrive. The details include the train name, number and time. Travellers can also can track their train live on the website or check schedule. The Schedule section will show the arrival and departure time, along with the number of stops. You can also see the classes available in a train and what days they run. You can head to the IRCTC website to find trains by inputting origin and destination. You can choose the train, class and proceed to reserving a seat. Payment for tickets can be made using credit/debit card and Internet banking. You can view and manage your reservation on the IRCTC account. If you booked a ticket with RAC or Waiting List you can check the PNR status online. Lost your luggage or a valuable item during your travel? You will need to register a complaint by submitting a form with the Government Railway Police (GRP) or Railway Protection Force (RPF). You can reach them at the station or through the Central Control Room. For complaints or queries on tickets, security, lost luggage, career, or others, reach the Kanpur Central rail support.