Contact Isle Royale National Park: Find below support details of Isle Royale National Park, Michigan, including phone and email. Besides contact details, the page also offers a brief overview of the tourist landmark
Address
Isle Royale National Park
800 East Lakeshore Drive
Houghton, MI 49931
United States
Support
Phone: 906-482-0984
Phone: 1-800-433-1986 (emergency)
______
About Isle Royale National Park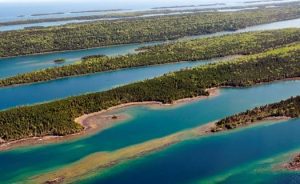 A haven of tranquility amidst the bustling environs of the United States of America is Isle Royale National Park. A 535 Km island in Lake Superior in the state of Michigan, the Isle Royale National Park is made up of the main island and 450 smaller adjoining islands and water bodies. It is the largest natural island in Lake Superior and has the distinction of being the sixth largest lake island in the world. The park is within accessible distance both from the Canadian front and the US side. The highest point is Mount Desor at 425 meters above lake level.
The Isle Royale National Park is as yet undiscovered by the tourists and is one of the least visited parks in the US. The Park plays an important role in protecting and preserving the natural and wilderness resources of the archipelago. It is quite remote and has a large population of wolf and moose and makes it a great research and study arena for these animals and flora. The island is covered with Balsam Fir, Black Spruce and White Spruce trees.
The Isle Royale National Park is open between April 16th and October 31st and visitors are requested to check the website before making plans. There are a lot of activities to take up on the island and it depends to a large extent on the interests and physical ability of the visitor. Most popular are the evening programmes which include exploring and learning. Guided tours are available, as well as more exciting and strenuous activities such as kayaking, rafting, scuba diving, swimming, boating and fishing. Some visitors just like to take it easy and experience the utter silence and calm. Campsites are available but are accessible only by foot or boat.
Tickets are available online. Visitors should carry the receipt along with them to the Park. The entrance fee costs $7 per person for a day and a season pass will cost $60 for four people for the entire season. Children are exempt from paying a fee, as are military personnel, seniors and volunteers. The park has an information center, a lodge, a campground and a ferry landing. Entry to the island is by ferry or seaplane and what makes the Isle Royale National Park so pristine is that there are no roads on the island. For more information or queries on tickets, events, parking, lodging or others, reach the Isle Royale National Park support.