Contact Huddle House: Find below customer service details of Huddle House, including phone and email. Besides contact details, the page also offers a brief overview of the fast food chain.
Head Office
Huddle House, Inc
5901 Peachtree-Dunwoody, Suite B450
Atlanta, GA 30328
United States
Support
Phone: 770-325-1300
Email: [email protected] (feedback)
______
About Huddle House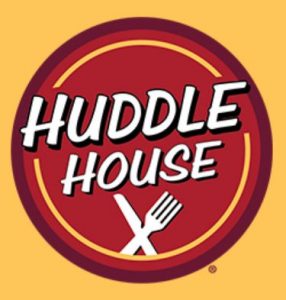 Huddle House is an American fast food chain that was founded in 1964. Headquartered at Atlanta, Georgia, Huddle House boasts of more than 350 restaurants. The locations include Alabama, Florida, Georgia, Kansas, Kentucky, Louisiana, Maryland, Mississippi, Missouri, New Jersey, North Carolina, Ohio, Oklahoma, Pennsylvania, South Carolina, Tennessee, Texas, and Virginia. The casual dining and fast food restaurant chain serves Southern-inspired breakfast, lunch and dinner. You can locate a restaurant using the restaurant locator on the Huddle House website. Online ordering facility is available in select locations. Locating stores and ordering food can also be done conveniently using the Huddle House smartphone app for iOS and Android. You can even be updated on all ongoing deals, see menu and earn reward points through the app.
As for what you can eat at the Huddle House, for breakfast there are a variety of waffles, french toast, burgers, sandwiches and stuffed hash-browns. The names of items include Smokehouse Platter, Ranch Platter, Bacon Sausage, Ham & Cheese, Strawberry Topped Waffle, Pecan Waffle, French Toast Platter, Golden Waffle Platter, Western Omelet, Ham & Cheese Omelet, Two Egg Platter, Wild Blueberry Pancake, Butter Pecan Praline Pancake, and Chocolate Chip Fix Pancake. For lunch and dinner you can try HuddleBurger with Bacon, Double Mushroom Swiss Burger, Triple HuddleBurger, HuddleBurger, Philly Cheesesteak Sandwich, Big House BLT, Chopped Steak, Country Fried Steak, Grilled Chicken, Ribeye Steak, Shrimp Dinner, Homestead Platter, Chef Salad, Grilled Chicken Salad, to name a few. Finish of your meal with a variety of irresistible desserts and drinks. The nutritional information for the food is published online.
There are regular deals on food at Huddle House restaurants. You can follow the current deals by registering for the Huddle House E-club. Looking for a career with Huddle House? All the current job openings are posted online. You can also apply for a position instantly. If interested in the restaurant business, Huddle House franchise program might just help you get started. Details on initial investment, franchise fee and related information are available here. You can reach the support to receive a Franchise Information Guide to learn more about the ownership opportunity. After the franchise agreement signing, you will be met with team that helps in securing site, constructing restaurant and launching the brand. For more information or queries on restaurant locations, menu, online ordering, refund, career, or others, reach the Huddle House support.