Contact Gwalior Fort: Find below customer service details of Gwalior Fort, Madhya Pradesh, including phone and email. Besides contact details, the page also offers a brief overview of the tourist landmark.
Address
Gwalior Fort,
Gwalior – 474008,
Madhya Pradesh
Directions: Google Maps
Support
Phone: 751 2480011 /2481259
Phone: 751 2234557
Phone: 755 2550588 (Madhya Pradesh Tourism)
Email: [email protected] (Madhya Pradesh Tourism)
___________
About Gwalior Fort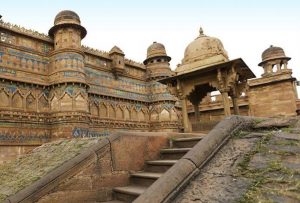 Gwalior – the city of temples, steeped with a rich culture and celebrated history, is a popular holiday destination for tourists, in the erstwhile princely state of Madhya Pradesh in Central India. Historically famed for the architectural monuments, the city often called the "Gibraltar of India", is home to the magnificent hilltop Gwalior Fort, built during the 8th century, by Raja Man Singh of the Tomar Rajput family.
Listed in chronological order, as one of the largest forts in India, numerous battles ensued between several kings, namely the Chandelas, the Mughals, the Tomars, the Lodis, the Marathas, and many others to confiscate the Fort, as their stronghold. Eventually, the Maratha Scindias victoriously re-captured the fort during the British rule, and ruled the Gwalior state, until the independence of India in 1947.
Notable for its architectural splendor, the Gwalior Fort built on a rocky hilltop of sandstone, and surrounded by mountainous terrains, offers a bird's eye view of the valleys, and the city below. Likewise, found within the fort premises are six palaces, three temples, and numerous water tanks, built during different periods, that offer spectacular views to the tourists. Of all these, the Teli-ka-Mandir, and the Man Singh Palace, is the most often visited monuments within, the Gwalior Fort. Other places of interest include the Jai Vilas Palace, the Jain temples, the Garuda Monument, the Gurjari Mahal, and many others.
Winters are the best season to explore the Gwalior Fort, starting from Oct-Mar, and are best to avoid during summers, as the temperatures soar extremely high, and is unfit for travel. Moreover, cultural shows such as the Tansen music festival, the Gwalior Annual Trade Fair, and the State festivals are much-anticipated events, which attract tourists from around the world, during the winter season of Dec-Jan.
Open all days of the week from 9:00am-5:00pm, the Fort is well accessible by the national highway road, railways, and a domestic airport at Gwalior. The nearest international airport is at Delhi, connected to all the major cities of India, and other international countries.
The entry fee for Gwalior Fort costs INR 75 for adults and, INR 40 for children above 15 years, and is INR 250 for non-nationals. Visitors can enjoy the 45-minute light and sound show in Hindi from 7:30 pm and, in English from 8:30pm. For more information or queries on timings, tickets, events, parking, or others, reach the Gwalior Fort support.