Contact Grand Palais: Find below customer service details of Grand Palais, France, including phone and email. Besides contact details, the page also offers a brief overview of the tourist landmark.
Address
Grand Palais
Avenue des Champs Elysees,
75008 Paris, France
Support
Phone: +33 (0)1 40 13 48 00
Email: [email protected] (general)
Email: [email protected] (Sesame Pass membership)
______
About Grand Palais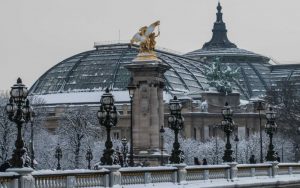 Grand Palais is a historic monument of the 19th century, in the region of Champs-Élysées, near Paris in France. A significant Parisian landmark and popular tourist attraction, the Grand Palais built in 1897 is over 100 years old, and was open to the public as a part of the Universal Exposition in 1900. Officially listed in 2000 as "monument historique", by the French Ministry of Affairs, Grand Palais attracts 2.5 million visitors every year, and the monument houses an exhibition center and museum, for contemporary French art and culture.
Designed jointly by four renowned architects, Henri Deglane, Albert Thomas, Charles Girault, and Albert Louvet, the Grand Palais is an architectural masterpiece of Neo-Classicism and Art Nouveau styles of the 19th century. The breath-taking streetscape views of the building facade, with the magnificent stone colonnades, and eye-catching translucent glass vault roof, built with iron and steel framework, is a visual delight to the visitors. With symmetrical proportions and massive in scale, the façade lobby has a grand staircase, flanked by large columns on the exteriors, and has intricate mosaic and metalwork on the interiors.
The building covers three major zones, namely the Galeries Nationales (art and cultural museum), the Palais de la Découverte (science museum), and the Nave (atrium with glass roof).
Visitors can discover French art and cultural exhibits of sculptures and contemporary artwork, at the Galeries Nationales by eminent artists such as Monet, Chardin, and more. For science enthusiasts, the Palais de la Découverte holds science experiments and educational workshops, for visitors in an interactive way. Likewise, the Nave, towering at 150 feet is the largest glass roof structure in Europe, and hosts a variety of prestigious social and cultural events, all-round the year. Information on the exhibitions, events and collections are available on the website.
Online booking is highly recommended to reserve seats, and to schedule group tours based on the event timings. The best times to visit Grand Palais are from 10am – 12pm, and visitors typically spend about 2 hours at the museum. Other amenities available for visitors include restaurants, museum shops, book centers, and workshops.
The Galeries Nationales are open six days a week, every day from 10am – 8pm, except on Tuesdays, and Palais de la Découverte is open Tue –Sat from 9:30am – 6pm, and on Sundays and public holidays from 10:00 am – 7:00 pm, and remains closed on Mondays. Entrance tickets cost €13 for Grand Palais, and for Palais de la Découverte, tickets cost €9 for adults, and €7 for youth under 25. Tickets can be purchased online using major credit cards. You can opt between single tickets, group tickets or for guided tours. For more information or queries on tickets, cancellation, events, timings, parking, transportation, or others, reach the Grand Palais support.