Contact Glasgow Cathedral: Find below customer service details of Glasgow Cathedral, Scotland, including phone and email. Besides contact details, the page also offers a brief overview of the tourist landmark.
Address
Glasgow Cathedral,
Castle Street,
Glasgow, G4 0QZ
Directions: Google Maps
Support
Phone: 0141 552 8198
Phone: 0141 552 6891 (Historic Scotland)
Email: nil
________
About Glasgow Cathedral
One of the oldest and acclaimed historical buildings, the Glasgow Cathedral is a prominent tourist attraction, and an architectural masterpiece in the heart of Glasgow, the largest city of Scotland. The cathedral serves as an active place of Christian worship for the Presbyterians, and is one amongst the few churches to survive, and remain structurally intact, during the protestant reformation.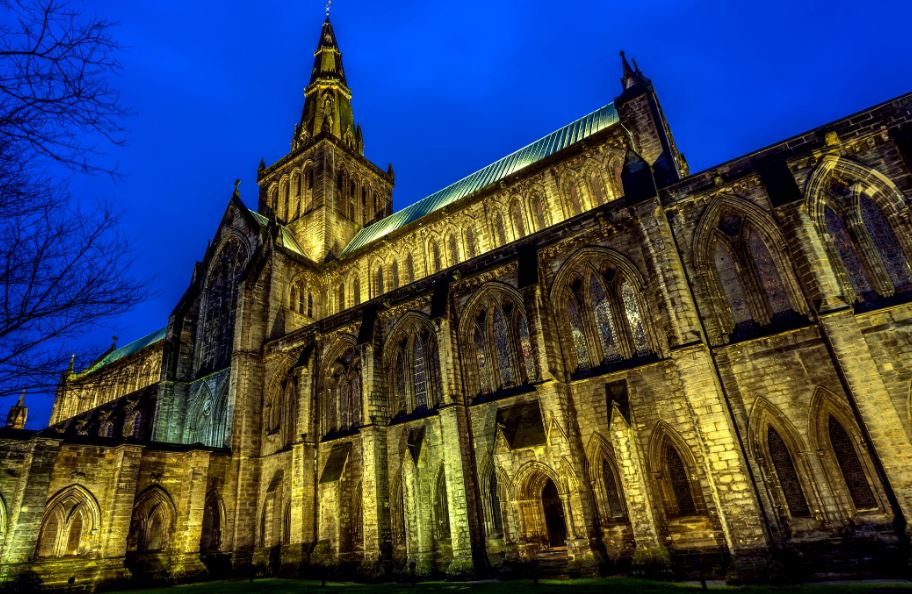 An erstwhile site of the Roman Catholic Diocese, the present cathedral remains built over the burial site of Mungo, a city patron and a 12th century saint of Scotland. The cathedral, built around the 13th century, often called as St. Mungo's or St. Kentigern's, presently belongs to the congregation of the Church of Scotland. Owned by the Crown, and functionally managed by the State of the Historic Scotland, the Glasgow Cathedral, stands listed as a state property from 1836, and restoration campaigns are in order to maintain and upgrade the cathedral.
Originally built as a wooden structure, the present edifice is a fine example of Gothic Medieval architecture, built of stone. The architectural detailing of the roof is similar to other Scottish Medieval Churches, resplendent with rows of spires or pointed arches along the length of the exterior. The high arched windows set in stone at regular intervals, the delicately carved tracery patterns along the walls, the vaulted aisles on the interiors, the stone pulpit, and the stained glass windows, are a visual spectacle to tourists.
The 13th century Crypt of St. Mungo is one of the ancient historical features of the Cathedral, along with Blackadder Aisle, built by Bishop Blackadder. Other fascinating features of the cathedral include the stained glass windows, and the stone pulpit, also built during the 15th century, post-war after the protestant reformation.
Glasgow Cathedral is a stone's throw away from the city centre, and lies in the neighborhood of the Royal Infirmary, with Necropolis at the backyard, and Provands Lordship, an old building of Glasgow on the western wall. Public commuting by train is via the Glasgow High Street, and by foot from the George Square.
Open every day of the week, from 10am-4pm, and from 1pm-4pm during the weekends, the Glasgow Cathedral conducts worship, for the congregation every Sunday. Guided tours are available with prior request and entry is free for all, and charitable donations are accepted, to maintain the church and for restoration purposes. For more information or queries on timings, tickets, events, parking, or others, reach the Glasgow Cathedral support.