Contact Fujikyu Railway: Find below customer service details of Fujikyu Railway, Japan, including phone and email. Besides contact details, the page also offers a brief overview of the company. Reach the customer service below for support, complaints or feedback.
Head Office
5-2-1 Shin-nishihara,
Fujiyoshida-shi, Yamanashi
Customer Servie
Phone: 0555-22-7133 (Mt Fuji Station)
Phone: 0555-73-8181
Email: [email protected]
___
About Fujikyu Railway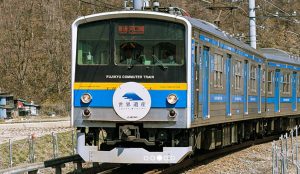 Fujikyu Railway is a Japanese train operator that operates the popular Fujisan View Express. It operates between Otsuki station and Kawaguchiko station and connects the much famed Fuji Q Highland and offers stunning view of Mount Fuji, the highest mountain in Japan. The trains go very slow, allowing travellers to enjoy the scenery as it goes through countryside and valleys. The Fujikyuko Line, opened in the year 1990, connects some 18 stations that include Otsuki, Kamiotsuku, Tanokura, Kasei, Akasaka, Tsurushi, Yamuramachi, Tsuru-bunkadaigaku-mae, Tokaichiba, Higashi-Katsura, Mitsutoge, Kotobuki, Yoshiikeonsenmae, Shimoyoshida, Gekkoji, Fujisan, Fujiksu-Highland and Kawaguchiko.
Fujikyu Railway, which is 26.6km long, is most used by tourists and mountain climbers who are visiting Mt Fuji. Other sightseeing spots include Kawaguchiko (one of the Fuji Five Lakes), Chureitou and Kawaguchiko (ropeway offering panoramic view of Lake Kawaguchi and Mt Fuji). The different trains include Fujikyu Railway Local Train, Fujisan Express, Fujisan View Express, Fuji Tozan Densha and Thomas Land Train. You can know the schedule, operating hours and fares on the website. Besides timetable, you can also track the status online.
Fujisan Express is a special limited train with an observation car. There are reserved as well as non-reserved cars within. Ask for the "Sweets Plan" to enjoy delectable sweets by the pastry chef, complimentary drinks and reserved seat on first class car. Tourists will benefit from the many packages offered by Fujikyu. It includes the Fujikyu-Highland one day pass, the Rail and Rope which which includes Kawaguchiko, Mt Fuji Panorama Ropeway and Fujikyu Railway train ticket, Mount Fuji 5th Station Pass and Mt Fuji & Fuji Five Lakes Passport. Also look for the Mt Fuji Pass, offering unlimited ride on buses and trains around Mt Fuji. The one day and two day pass covers entrance tickets and offers special deals for popular amusement facilities.
Tickets can be purchased at sales outlets and even at the stations. Note that the train tickets are refundable before you pass the gates. However, there will be a cancellation fee. For more information or queries on tickets, schedule, refund, cancellation, career/jobs, or others, reach the Fujikyu Railway support.