Find below customer service details of First Choice Power, Texas, including phone and email. Besides contact details, the page also offers a brief overview of the utility company.
Head Office
First Choice Power
12 Greenway Plaza Suite 250
Houston, TX 77046
United States
Customer Service
Phone: 1-866-469-2464
Phone: 1-855-676-7239 (prepaid)
Email: [email protected]
_______
About First Choice Power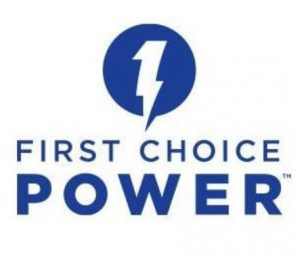 First Choice Power is a utility company serving residential customers in Texas, US. The privately held company was founded in 2001 and was acquired by Direct Energy in 2011. The areas it currently serve include Abilene, Arlington, Brownsville, Corpus Christi, Cypress, Dallas, Fort Worth, Houston, Laredo, McAllen, Plano, Sherman, Spring, Temple, Tyler, Victoria and Waco, to name a few. You can check for plans and services in a specific area by entering zip code on the website's search. First Choice Power states its goal is to provide convenient and affordable energy solutions, giving much flexibility for those who want to go on a short-term lease or monthly plan.
The different electricity plans available to choose include prepaid electricity, no deposit electricity, fixed electricity and month-to-month electricity. The prepaid electricity is both affordable and flexible. It requires no deposit, contract or credit check. All you need is a minimum payment of $30 to start. You can pay as you go online through any major credit card. This is perfect for those who want to get started instantly. You can activate the plan same day after making initial payment. When your account needs to be replenished with funds, there will be reminders sent via text or email. If there is low-balance on account, you might face interruption to your service. Note that you will need a provisioned smart meter to start. Also, the service is not available in all regions.
Registered prepaid users can login to their Online Account Manager on web or smartphone app to see how much energy is being used on a daily or monthly basis, and set payment and reminders. Besides prepaid electricity, you can choose 6 Month Plan, 24 Months Free Weekends Plan, 12 Months Free Weekends Plan, Month to Month Plan, 12 Month Green Plan, to name a few. The plans and rates vary according to region. Before ordering a plan, do see the highlights, along with base charge, energy charge and estimated bill. This will give you an idea of how much you will be saving and what your monthly bill is going to be. Interested customers can order a plan on the website or by talking to First Choice Power support.
Facing an outage? You can see the status of same from your account or by calling the helpline. You can also dial the customer service to report outage or damage to electric meter. As for bills, you can choose a paper bill or one sent regularly via email. Payment can be made online or by visiting any nearest authorized partner. Payment can also be made by the phone automated system. Set automatic payments with your credit/debit card or bank account to enjoy hassle-free uninterrupted electricity services. For complaints or queries on store locations, payment, cancellation, refund, or others, reach the First Choice Power support.