Contact Federal Trade Commission: Find below customer service details of Federal Trade Commission (FTC), US, including phone and email. Besides contact details, the page also offers a brief overview of the government agency.
Head Office
600 Pennsylvania Avenue, NW
Washington, DC 20580
United States
Phone: 202-326-2222
Customer Service
Phone: 1-877-FTC-HELP
Phone: 1-877-382-4357
Email Support
Email: [email protected] (administrative litigation)
Email: a[email protected] (complaints about mergers and antitrust issues)
Email: [email protected] (for careers)
Email: [email protected] (report website issues)
_______
About Federal Trade Commission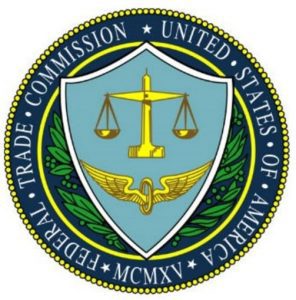 The Federal Trade Commission (FTC) is a US law enforcement agency whose mission is to protect consumers and ensure a strong competitive market. Formed in the year 1914, the consumer protection agency is headquartered at Washington DC, US. The FTC checks unfair and fraudulent practices in the market, conducts investigations and proceeds with legal action against those violating the law. It also continuously develops policy and research tools, and collaborates with law enforcement partners. Another important responsibility is its task to collect complaints and pass it on to law enforcement agencies. FTC's regional offices are located at Los Angeles, San Francisco, Cleveland, Chicago, New York City, Seattle, Atlanta and Dallas.
The FTC is headed by a five member Commission, appointed by the President for a seven year term. The agency's responsibilities are administered by three bureaus -Bureau of Consumer Protection, Bureau of Competition and Bureau of Economics. The Bureau of Consumer Protection is divided into seven divisions and programs such as Division of Advertising Practices (protecting consumers from unfair or deceptive advertising and marketing practices), Division of Consumer and Business Education (to implement public education campaigns), Division of Enforcement (civil penalty actions to enforce federal court injunctions and orders), Division of Financial Practices (monitor unfair practices by financial services companies), Division of Marketing Practices (respond to problems of consumer fraud), Division of Planning and Information (collect and analyze data to target law enforcement) and Division of Privacy and Identity Protection (monitor issues related to consumer privacy, credit reporting, identity theft, and information security).
Browse the FTC official website to read latest news and track events. Further, one can also track most recent scam alerts. You can browse scams by topics such as charity, credit/loan, education, health, immigration, auto, investment, money transfer, phishing, phone fraud, and online scams. There are also a number of useful consumer tools to take action. You can report identity theft, file antitrust complaint, register for Do Not Call, or file a consumer complaint. For reporting identity theft, the FTC has created a separate website IdentityTheft.gov. For filing a general consumer complaint, you can visit the FTC Complaint Assistance here. You can choose a complaint category and answer questions related to your complaint. The main categories listed include Rip-Offs/Impostor Scams, Mobile Devices, Internet Services/Online Shopping, Education/Jobs, Credit/Debit, Robocalls/Telemarketing/Spam, Grants, Health/Fitness and Automobile. Be it receipt of a fake check, a fraudulent email, unwanted telemarketing call or an impostor scam, you can use the tool for reporting same.
FTC does not resolve individual complaints but shares the details with local, state, federal and foreign law enforcement partners for action. Your complaint can be used to investigate cases or process a legal proceeding. According to FTC's 2017 report, the most complaints it received under Debt Collection, followed by Identity Theft and Impostor Scams. There were 608,525 complaints registered under Debt Collection. The report also says the FTC returned more than $543 million in redress funds to consumers, saved consumers over $3.7 billion through its merger and nonmerger actions and over $1.28 billion through its consumer protection law enforcement actions.
Consumers will find the FTC website a treasure of information and resources. Under the Policy section, you will find agency's insights through briefs and letters. Find reports, studies, advisory opinions, policy statements and hearings on competition and consumer protection. If looking for a specific case and proceeding, you can look up on the website by name and date. Cases can be filtered by industry, topic and enforcement type. There are also tips on dealing with debt, credit/loans, online security and investments. And for those looking for details on recent FTC cases that resulted in refunds, there is a separate Refunds section for same. The FTC contracts with private companies to help with the refund. The amount depends on what the defendants have paid and how much the court orders. If you did receive a check, you are advised to cash it within 60 days. FTC recently also has used PayPal to pay refunds. For complaints or queries on filing a complaint, tracking refund, reporting identity theft, career, or others, reach the Federal Trade Commission support.