Contact Dubh Linn Gardens: Find below customer service details of Dubh Linn Gardens, Dublin, including phone and email. Besides contact details, the page also offers a brief overview of the tourist landmark.
Address
Dublin Castle,
Dame St, Dublin 2
Support
Phone: +353 1 6458813
Email: [email protected]
______
About Dubh Linn Gardens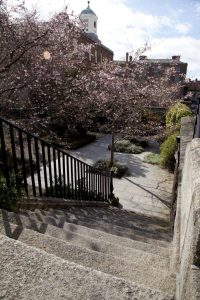 Transcending and beautiful, the Dubh Linn Gardens, built during the early 17th century, is a scenic focal attraction, in the heart of Dublin City. Originally, the garden site was a dark lake and hence, the garden gets the name Dubh Linn, which translates as "black Pool" in Irish. The garden, known for its remarkable sculptural art and Celtic symbolism, attracts millions of visitors every year.
In 2004, the Dept. of Environment Heritage and Local Government, awarded the garden with, the "Best Landscaped Open Space Award" and, in the present day, the Office of Public Works maintains the site, as a public garden.
Located behind the Dublin Castle, the entrance of the garden is through the beautifully crafted, wrought iron gates, with spiral patterns of Celtic symbols. Designed by architect Ana Dolan, the Dubh Linn Gardens, initial development layout, includes the design of a circular helipad, for landing helicopters. The use of the helipad, as a continuing requirement, after the design of the central lawn, adds more significance to the garden.
Inspired by Celtic symbolism, the spiral patterns interlock with one another, and cuts through the grass lawn, laid with paved cobblestones, and stone arches. There are four small gardens, one at each corner of the lawn, and three of them stand designated as Memorial Gardens.
Designed in 2009, the Gardaí Memorial Garden is the largest of the three memorial gardens, dedicated to the Irish Police, assassinated on duty, with their names inscribed on a roll of honor, and another Memorial Garden stands dedicated to the memory of Journalist Veronica Guerin. In addition, a bronze sculpture dedicated to 30,000 contributors, with their names inscribed on a plaque, towards the Special Olympics held in 2003, is yet another fascinating highlight, of the garden.
Visitors can enjoy the panoramic landscape views of the Celtic patterns, from the State Apartments, and muse over the various exquisite commissioned sculptures of art, erected around the memorial garden. Easily accessed from the City Center, the garden is at close proximity, to the Chapel of Royal and the Dublin Castle. Best visited during the summer, the garden blooms with activities for artists and students, to study sculptures, and is a great spot for meditation, family picnic, and leisure walks.
Admission is free for entry, and the gates open on Mon-Fri from 10:00am – 16:45pm, and on Sat/Sun from 14:00pm – 16:45pm. Visitors typically spend about one hour at the garden, and can explore the various nearby City attractions, as the garden links with all major modes of public transport. For more information or queries on timings, events, parking, or others, reach the Dubh Linn Gardens support.