Find below customer service details of Chennai Mofussil Bus Terminus (CMBT), including phone and email. Besides contact details, the page also offers a brief overview of the transportation hub.
Address
Chennai Mofussil Bus Terminus
CMBT Passenger Way,
Koyambedu, Chennai 600107
Directions: Google Maps
Customer Service
Phone: 044-24794705
Email: [email protected] (Tamil Nadu State Transport queries)
______
About CMBT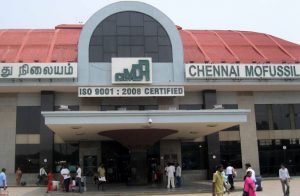 Chennai Mofussil Bus Terminus (CMBT) is touted to be the second largest bus depot in India. Located in Koyambedu, Chennai, the bus depot is spread across 37 acres and offers a host of amenities so travellers are not deprived of any comfort. Koyambedu being a well-developed neighborhood for commercial activities is seen as a transit town and attracts a large number of tourists. Also known as Puratchi Thalaivar Dr. MGR Bus Terminus, the busy station is a major link for intra and inter-state buses. Opened in the year 2002, the bus terminus is owned by the Chennai Metropolitan Development Authority (CMDA) and currently boasts of 160 platforms.
Situated right at the Inner Ring Road, which is a major transportation corridor, the terminus has buses operated by the Tamil Nadu State Transport Corporation (TNSTC) and State Express Transport Corporation (SETC). The MTC local buses also have regular services from here. Private buses operate from the CCCBT bus terminus, which is not very far from the CMBT. According to sources, the CCCBT caters to over 200 buses through the 80 bus bays.
As for the Koyambedu bus terminus, sources say it can handle over 4,000 buses and 10,00,000 passengers a day. And for those who want to connect swiftly through a metro, you will be delighted to know that Chennai Metro has an elevated metro railway station inside the terminus. Speaking of amenities, the station boasts of computerised ticketing counters, a large waiting facility and a 25,000 sq ft parking area for two wheelers and four wheelers. Regular announcement of schedule and buses are made through speakers and digital billboards.
Being one of the busiest bus stands, the Chennai Mofussil Bus Terminus offers the right amenities needed for a tired and weary traveller. You have convenience stores for shopping, ATMs for cash withdrawal, eateries for a quick snack and restaurants for casual dining. There are help desks and counters for disabled visitors or those needing help with filing complaint for lost items.
Wheelchair access is provided to senior citizens and those with disabilities. Other amenities include travel agencies, coffee shops, supermarkets and emergency medical center. There are also 24-hour pharmacies for quick procurements. If you are planning an overnight stay, there are dormitories and hotels offering budget accommodation. For complaints or queries on tickets, cancellation, security, parking, or others, reach the CMBT support.