Find below customer service details of Brooklyn Botanic Garden, New York. Besides contact details, the page also offers a brief overview of the tourist destination.
Address
150 Eastern Parkway
455 Flatbush Avenue
990 Washington Avenue
Brooklyn, NY 11225
Directions: Google Maps
Customer Service
Phone: 718-623-7260 (general)
Phone: 718-623-7210 (membership)
Phone: 718-623-7277 (lost and found)
Phone: 718-622-0963 (garden shop)
Phone: 718?307?7136 (Yellow Magnolia Cafe)
Email: [email protected]
Email: [email protected]
Email: [email protected]
______
About Brooklyn Botanic Garden
A former marshland, the Brooklyn Botanic Garden (BBG), founded in 1910 by botanist Charles Stuart Gager is a historical landmark and popular tourist attraction in the city of New York. Home to around 18,000 living plant selections, the botanic garden unfolds over 52 acres of land and attracts nearly 1 million visitors every year. The Olmstead brothers designed the layout and the garden officially opened to the public in 1911 showcasing conservative plants as its first garden exhibit.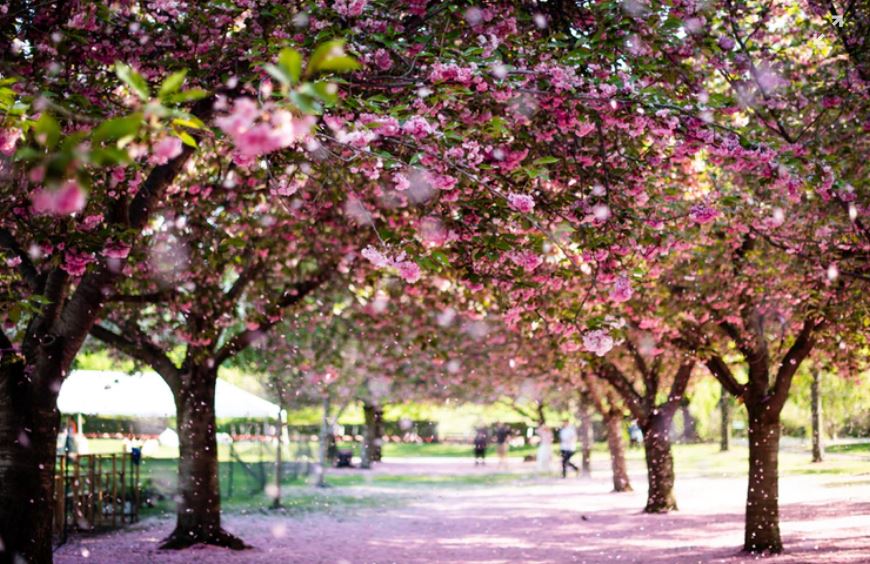 Landscape architect Harold Caparn designed and developed the present garden over the next 13 years, and is home to 16 separate gardens within the botanic garden. Some of the individual gardens are the Native Floral garden (1911), Children's garden (1914), Japanese Hill and Pond garden (1915), Rock garden (1916), Cranford Rose Garden (1928), Original herb garden (1938), Osborne garden (1939), Fragrance garden (1955), Shakespeare garden (1979), Cherry Esplanade (1982), Original Discovery garden (1996), New Discovery garden (2015), Shelby White and Leon Levy Water garden (2016).
Open year round, every season has a variety of exotic exhibits, permanent exhibits, for visitors, and offers a panoramic visual ecstasy of blooming botanical species, herbs, and orchids. Top attractions at BBG are the flowering cherry collections, the daffodil hills, the home-composting exhibit, the lilac collection, magnolia plaza, plant family collection, bonsai collection, peony collection, Alfred T. White memorial, and Robert W. Wilson aquatic house.
In addition to the stunning spectacular gardens, there are conservatories such as the Steinhardt conservatory (greenhouse for bonsai and orchid), Desert pavilion (African deserts and arid regions), Helen Mattin warm temperate pavilion (Central China, Mediterranean, and South Africa), and Tropical pavilion (Amazon Basin, Rainforest, and Asia). BBG also conducts a variety of programmes such as workshops, garden tours, talk shows related to plant and community gardening study for children, volunteers, and funders.
Every year BBG hosts public garden festivals to celebrate various seasons such as the Sakura Matsuri (spring festival), Chile Pepper festival (early fall) and the Gourd festival (autumn). The best time to visit the garden is during June at the onset of summer season, and spring (April –May) for the Japanese garden, and winters for the desert garden. Visitors typically spend around 3-4 hours at the garden, and remain closed for the public on Mondays, Labor Day, Christmas Day, and New Year's Day.
In summer (March-October), the garden is open from Tuesday –Friday between 8:00am-6:00pm, and on Saturday- Sunday from 10:00am -6:00pm. During winters (December-February), the garden is open from 10:00am-4:30pm, and during November from 8:00am-4:30pm. Online booking is available and admission tickets cost $15 for adults and $8 for seniors and students, and free for children under 12, and members have free admission every day.