Contact Brand Factory: Find below customer service details of Brand Factory, India, including phone and email. Reach the customer service below for support, complaints or feedback.
Head Office
BrandFactory,
Umang Tower,
2nd Floor, Mind Space,
Opp Link Road, Malad (West),
Mumbai 400 064
Customer Service
Phone: 1800 210 1888
Phone: (022) 6644 2200
Email: [email protected]
_____
About Brand Factory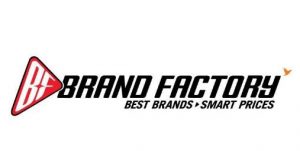 Brand Factory is a well known chain of Indian discount store focusing on apparel and fashion accessories. The brand is present across 42 cities, with more than 90 stores. The Brand Factory outlets boast 200+ domestic and international brands. The fashion discount chain is part of Future Group and operates from it's headquarters at Mumbai.
Shoppers can locate a Brand Factory outlet through the search tool on the website. Brand Factory claims shoppers will find a catalog with stunning designs having a price tag with up to 70% off the retail price. During stock clearance the brand posts advertisements on all major newspapers, updating the general public.
The stores, open all year round, stock apparel for men, women and kids. Find brands such as Park Avenue, Pepe Jeans, Peter England, Lee, Wrangler, Gini & Jony, Allen Solly, W, Aurelia, Van Heusen, Arrow, Izod, Levi's, Raymond, Converse, Fila, Puma, to name a few.
Some of the top cities where Brand Factory has presence include Ahmedabad, Amritsar, Bengaluru, Bhubaneswar, Chennai, Delhi, Guwahati, Hyderabad, Indore, Jammu, Kolkata, Lucknow, Mumbai, Mangalore, Patna, Pune, Secunderabad, Trivandrum, Visakhapatnam, and Vijaywada. You can know all the latest and trending on the Brand Factory website.
Purchases at stores can be made using cash, debit card, credit card and Brand Factory gift cards. Check the return and refund policy with the billing counter before making your purchase final. For more information or queries on store locations, payment, cancellation, refund, or others, reach the Brand Factory support.