Find below customer service details of Boden, UK. Besides contact details, the page also offers a brief overview of the fashion retailer.
Head Office
Boden House,
114-120 Victoria Road,
London NW10 6NY
Support
Phone: +44 330 333 0000
Email: [email protected]
_____
About Boden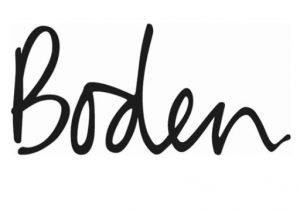 Boden is a British apparel retailer founded by entrepreneur Johnnie Boden in 1991. The company primarily sells men's and women's clothing through mail order and via Internet. The catalog promotes affordable clothing that do not compromise on style and quality. Explore the wide selection of items by visiting the website. For bargain hunters, there is a Clearance section on the website having apparel with up to 50% off. To track the discounted and latest fashion through mail, you can request a catalogue on the website. If you are around London, you can visit Boden's stores at Chelsea or Hanger Green.
For Internet shoppers,the Boden website allows you to shop conveniently and have an item shipped to your address. You might want to start at the New In section for all the latest items on the catalog. Other main categories listed on the platform include dresses, tshirts, shorts, swimwear, trousers, shirts, skirts, jeans, jumpsuits, knitwear and coats/jackets. There are also clothing available for girls and boys. Accessories you can shop include socks, belts, bags, sunglasses, scarves and bracelets. Shoppers can filter items by price, color and size. When you click on a product page, you can see the highlights along with the size and material used. If you are not sure about the right size, there are size charts for men and women's clothing. The size charts provide you measurements for Small, Medium, Large and XL.
Purchases on Boden.co.uk can be done using Visa, MasterCard, American Express and PayPal. When you checkout, you can see the delivery costs and timeframe. Besides locations across UK, Boden also ships to Australia, Belgium, Canada, China, Czech Republic, Denmark, France, Germany, Hong Kong, Israel, Italy, Japan, South Korea, Netherlands, Russia, Singapore, Spain, UAE, US and other key locations. If you are based in UK, yous can opt for Click & Collect option. It allows you to order online and collect item from nearest partner outlet. Standard delivery across European locations can take 10-12 working days. You can receive an item within 3-5 working days by opting for Premium delivery. As for return policy, Boden allows shoppers to return an item within 3 months for full refund. Sale items must be returned within 14 days. To return an item, complete the returns form that came along with your order and ship same back to Bodens warehouse. For complaints or queries on payment, cancellation, refund, or others, reach the Boden support.