Contact Berger Paints: Find below customer service details of Berger Paints India Ltd, including phone and email. Besides contact details, the page also offers a brief overview of the company. Reach the customer service below for support, complaints or feedback.
Head Office
Berger Paints India Ltd
Berger House, 129 Park Street,
Kolkata 70001
Customer Service
Phone: 1800 103 6030
Phone: +91 33 2229 9724 / 2229 6005
Email: [email protected]
_______
About Berger Paints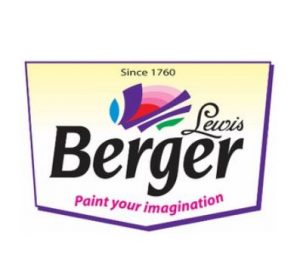 The first choice of any Indian family that wants to paint its house is Berger Paints. This Kolkata based company has 14 manufacturing factories in India, two in Nepal and one each in Russia and Poland. With a strong marketing network throughout the country, Berger Paints is available in every nook and cranny of India. There are products for every painting need.
For interior wall paints of houses, Berger Paints has three main products- Designer Finishes in five designs of Silk Emulsions in Metallica and Non- Metallica illusions range. This is due to the special Crystal Reflective Technology used in these Interior emulsions that make Silk Glamour Luxury Emulsion give walls an ultra-smooth finish.
Another product of Berger Paints that endears it to families with young children is the Easy Clean product which, in addition to giving a rich luxurious feel, has Cross – Linking Polymers which can be cleaned of even the stubbornest of stains, leaving the wall looking fresh and clean.
Berger Paints offers two types of Distempers – an economically priced interior paint called Commando Interior Acrylic Paint in a range of colors, and Bison Acrylic Distemper, an acrylic water based co-polymer emulsion, available both in premixed shades and made to order configurations.
Going beyond just being a producer and distributor of paints, Berger Paints has a unique Express Painting service which provides end to end support, trained painters, mechanized tools and advance products to ensure a professional finish.
All varieties of Berger Paints come in a multitude of colors and shades and computer mixing of custom made shades is also possible to give you the perfect shade to suit your house. The company also has come up with suggestions for interiors, textures and hues to help you make the best choice.
For exterior walls and surfaces, Berger Paints has a unique WeatherCoat Anti Dust paint that protects your house from the vagaries of weather through Dust Guard Technology. It also ensures protection against fungus and algae forming on your walls.
The website gives an overview of all it's products along with the key highlights. Some of the top products include Silk Glamor, Silk Luxury Emulsion, Easy Clean, WeatherCoat Long Life, WeatherCoat Anti Dustt, WeatherCoat All Guard, Luxol Satin Enamel, Luxol High Gloss Enamel, Luxol XTRA Super Gloss Enamel, Imperia Luxury Polyurethane, WoodKeeper Easy Clean 2K PU, Dampstop, Waterproof Putty, Cementmix Plus, Bison Wall Putty, BP Cement Primer and WeatherCoat Exterior Primer.
The product finder tool will make your search easy by product category, type and finish. The 'Paint Calculator' will give you an estimate on the amount of paint needed by assessing the measurement and carpet area, and number of windows and doors. Another very useful tool is the Virtual Painter. You can visualise how your home's interior or exterior will look with a particular shade or combination of many shades.
For those who have a busy life, Berger Paints has introduced the Berger Express Painting through which you get access to a dedicated customer executive and trained painters. Berger claims it's service is 40% faster than traditional painting. Other value added services include technical evaluation, waterproofing solutions, wood coating solutions, and furniture shifting and covering. Get started by scheduling an appointment for an on-site visit. A final quotation will be given before the work begins.
Berger Paints also has a host of ancillary products that are need to complete the painting process. Industrial users also have a range of products to choose from ranging from GI and automotive coatings and powder coatings to protective coatings that prevent corrosion. For more information or queries on branch locations, painting services, catalog, career, or others, reach the Berger Paints support.