Contact Bayer AG: Find below customer service details of Bayer AG, including phone and email. Besides contact details, the page also offers a brief overview of the company.
Head Office
Bayer AG
Kaiser-Wilhelm-Allee 1
51373 Leverkusen
Germany
Support
Phone: +49 214 30 1 (corporate)
Phone: +49 293 91 6000 (general)
Phone: +49 3046 81 111 (Pharma)
Phone: +49 214 30 0 (Currenta)
Phone: +49 2173 380 (Crop Science)
Phone: +49 214 30 1 (Animal Health)
Email: nil
Global Contacts
Phone: +61-2-9391-6000 (Australia)
Phone: +55 11 56945166 (Brazil)
Phone: +1 905-282-5550 (Canada)
Phone: +86-21-63618282 (China)
Phone: +57 1 4142277 (Colombia)
Phone: + 420 266 101 111 (Czech Rep)
Phone: +45 45 235000 (Denmark)
Phone: +202 2598 0666 (Egypt)
Phone: +33 4 72 85 43 21 (France)
Phone: +852 81002755 (Hong Kong)
Phone: +36 1 4874100 (Hungary)
Phone: +91 22 2531 1234 (India)
Phone: +62-21-570-3661 (Indonesia)
Phone: +39 02 39781 (Italy)
Phone: +603 7801 3088 (Malaysia)
Phone: +52 55 7283000 (Mexico)
Phone: +31 297 280666 (Netherlands)
Phone: +47 23 13 05 00 (Norway)
Phone: +7 495 2342000 (Russia)
Phone: +65-6496-1888 (Singapore)
Phone: +27 11 9215911 (S.Africa)
Phone: +971 4 4452700 (UAE)
Phone: +44 0 118 206 3000 (UK)
Phone: +1 862 404 3000 (US)
_____
About Bayer AG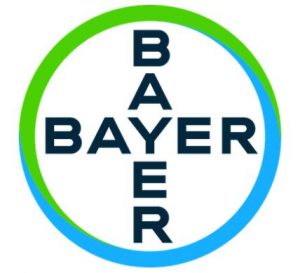 Bayer is a German company that deals exclusively in bio sciences, proficient in the field of agriculture and health care. Bayer has systematically carved out three major divisions dealing in pharmaceuticals, health and crop science and animal wellbeing. Together, the Bayer Group has under its fold 420 merged companies spread over 90 countries worldwide.
The company's history goes back to as far as 1863 when Friedrich Bayer, a businessman and a dyer named Johann Friedrich Weskott, joined hands to form a startup, driven by their common interest in the natural world. Gradually, their business was transformed into a chemical company and they started making headway to critical access markets. In the year 2013, Bayer celebrated its 150th anniversary and more recently astounded the world with its acquisition of Monsanto.
As the name implies, the pharmaceuticals division deals in products and medicines related to women's healthcare, cardiology, and other therapeutics and diagnostics equipment. Over the counter drugs as in analgesics, cold, allergy, skin and hair related products are made available through the consumer health division. The agriculture segment is managed by the crop science division offering products that range from seeds to quality control products.
Sustainable agriculture is at the heart of its agri-business, providing pioneering pest control solutions along with widespread customer service. One of the company's worldwide trendsetters is the animal health business entity that seeks to provide solutions to combat farm animal diseases.
Some of the worldwide bestselling products are derived from Bayer's stable and these include the brand names like Acceleron, Adalat, Advocate, Aleve, Arize, Aspirin, Baycox, Baytril, Belt, Bepanthen, Berocca, Catosal, Canesten, Channel, Claritin, Corvus, Desonate, Dr Scholls, Drontal, Finacea, Gaucho, Iberogast, Kyleena, Magnevist, Medrad Avanta, Medrad Intego, Medrad Stellant, Mirena, Movento, Nexavar, Primovist, Prosaro, Rennie, Sivanto, Stratego, Talcid, Velum, Veraflox, WestBred, Xarelto, Xpro, Xtendimax, and Zelnate, among others.
The website of Bayer is very informative from all aspects and the same has been designed keeping in view the needs of the current consumers, just like its products. Users are presented the option of looking up to the Bayer products on the website and they are also kept updated with latest issues of Bayer magazine and research magazine.
Bayer is committed towards providing a quality life to its consumers through products that have been developed and tested through deep research. The work ethics of Bayer essentially translates into social and environmental responsibility backed by a sustainability approach that cuts across borders. For more information or queries on office locations, new products, career, or others, reach the Bayer support.