Find below the customer service details of Arik Air. Besides contact details, the page also offers a brief overview of the airline.
Head Office
Arik Aviation Centre,
Muritala Muhammed Airport,
Ikeja, Lagos
Customer Service
Phone: +234 1 279 9999
Email: [email protected]
______
About Arik Air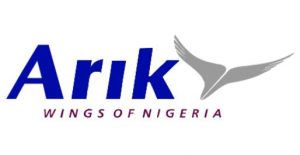 Arik Air is an Nigerian airline connecting fliers to domestic and international destinations. The airline was founded in 2006 and is headquartered at Lagos. Currently, the airline connects fliers to 17 domestic and 8 international destinations. Flights are operated from the two major hubs – the Murtala Muhammad International Airport and Nnamdi Azikiwe International Airport. Launching on the ground facilities of former airline Nigeria Airways, Arik Air's journey began with two Bombardier CRJ-900 aircraft in 2006. The fleet currently includes 8 Boeing 737-700 aircraft, 4 Boeing 737-800 aircraft, 4 Bombardier CRJ900, 1 Bombardier CRJ1000, and 4 De Havilland Dash 8-400. The airline has also placed orders for a number of new Boeing aircrafts. In 2010, the airline reported a passenger inflow of five million; it transported its ten millionth passenger in 2012. 
Within Nigeria, Arik Air connects to Abuja, Asaba, Benin City, Calabar, Enugu, Gombe, Ibadan, Ilorin, Jos, Kaduna, Kano, Lagos, Owerri, Port Harcourt, Sokoto, Uyo, Warri and Yola. International routes include Angola, Cameroon, Gabon, Gambia, Ghana, Liberia, Senegal and Sierra Leone. Bookings are facilitated on the website. Fliers can book a one way or round trip ticket in just a few simple steps. To start, choose the city you are flying from, followed by the city you are flying to, choose the dates and punch in the number of adults or infants flying, and click on search. Choose the fight according to the schedule most convenient, add your credentials and make payment. The website accepts payments via MasterCard or Visa. Customers can also choose to make payment at the airline counter.
If you have an existing booking, you can manage same online through reference number and last name. Online web check-in facility is available for some routes. Fliers can check-in their luggage online or at the airport counter. Most flights allow a hand baggage allowance of 12 kg. As for checked baggage, you can carry a single 23kg bag on Economy class. Premium and Business fliers are allowed up to two pieces of luggage. Details of same are published on the website. A frequent flier on the airline? Register for the Affinity Wings loyalty program to enjoy rewards every time you fly. When a member books an Arik Air ticket, he/she is credited with points that can be redeemed later for new booking. Members also enjoy extra baggage allowance, priority check-in, upgrades, among other benefits. You can register for the program for free. For queries on payment, lost baggage, restricted items, extra baggage charges, refund or cancellation, fliers can reach out to the Arik Air customer support team.