Contact Arconic: Find below customer service details of Arconic, including phone and email. Besides contact details, the page also offers a brief overview of the company.
Head Office
1 Corporate Drive
Kingston, NY 12401
United States
Phone: 1-800-278-4825
Email: nil
US Contacts
Arizona: 520-519-7400
Arkansas: 479-756-2740
California: 626-968-3831 (City of Industry)
Georgia: +1-478-374-4746
Illinois: 217-431-3900
Indiana: 765 771-3521
Iowa: 800-523-9596
Kansas: 620-665-2900
Maryland: 410-737-6980
Michigan: 248-489-4900
Minnesota: 651-635-4100
Missouri: 573-468-3176
New Jersey: 973-361-0300
New York: 800-278-4825 (Kingston)
Ohio: 330-848-4000 (Barberton)
Pennsylvania: 570-784-8000 (Kawneer)
Tennessee: 800-977-2869
Texas: 512-990-9100
*for complete contacts visit the website
International Contacts
Australia: +61 3 8545 3333
Belgium: +32 11 458460
Brazil: +55 (81) 3322-6600
France: 33 2 31 28 29 30 (Dives)
Germany: +49 8251 8757-0 (Aichach)
India: 91-11-23717870
Mexico: 52-877-908-0015 (Acuna)
Russia: +7 (495) 777 04 04
Singapore: +65 6291 3350
S.Africa: +27 (0) 11 894 6640
Spain: +34 91 055 91 83
____
About Arconic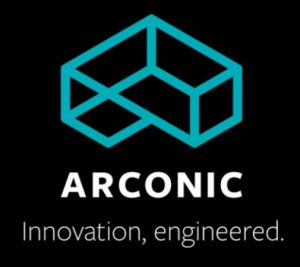 Arconic is a leading American manufacturer of highly engineered products, founded in 2016. The company was established after Pittsburgh-based Alcoa broke itself up into 2 separate publicly listed companies. The manufacturer of lightweight metals, including aluminum, titanium, and nickel is headquartered at New York City and employs more than 41,500. It's engineered products and solutions include the Arconic Engines, Arconic Engineered Structures and Arconic Fastening Systems. Other businesses include Building and Construction Systems, Aerospace and Automotive Products and Arconic Wheel and Transportation Products. Arconic's products are used by big names in aerospace, automotive, building, construction, consumer electronics, defense and energy sectors.
In 2017, Arconic posted revenue of $13 billion. Much of the revenue came from the aerospace sector. A quarter of the revenue came from automotive and commercial transportation. Arconic operates in more than 150 locations, across 25 countries. The Pennsylvania corporation's facilities are spread across US, UK, Brazil, China, France, Germany, Mexico, Canada, Hungary and Russia. Within the US, the facilities are spread across Arizona, California, Georgia, Indiana, Maryland, New York, Texas, Ohio and Virginia.
Known for its engineered products and solutions, Arconic manufactures products that include fastening systems (titanium, steel, and nickel superalloys), seamless rolled rings, investment castings, forged airframe and jet engine components, extruded airframe components, and various other forged and extruded metallic components for the oil and gas, automotive, and defense markets.
For some facts, Arconic is today the North American leader in aerospace fastening systems and commercial transportation fasteners. It holds the market position in aluminum sheet and plate for the aerospace industry. Additionally, it is the market leader in the forged, aluminum heavy-duty truck wheel market and building and construction architectural framing market.
Arconic is committed to conducting "business with integrity and in compliance with all applicable laws", the website states. It has established the Arconic Foundation to support programs that prepare future workforce in the manufacturing sector. It has created education opportunities for students and graduates in colleges, technical schools and universities. The independently endowed foundation has assets of $320 mn.
Looking for a career in the engineering and manufacturing sector? You can explore the various job opportunities at Arconic where you can have a rewarding career path. The Careers section of the website allows you to search a job by title or category. You can search for jobs within the US or outside. The website will show the many job openings that you can apply online. The job postings will mention the preferred qualifications, responsibilities, and experience. There are jobs available in the engineering, manufacturing, admin, quality control, information technology and finance sectors. New applicants can also read the benefits, company values and related information online. For more information or queries on office locations, sales, career/jobs, or others, reach the Arconic support.