Find below visitor support details of Arches National Park, including phone and email. Besides contact details, the page also offers a brief overview of the tourist destination.
Address
Arches National Park,
Moab, Utah 84532
United States
Directions: Google Maps
Support
Phone: 435-719-2299
Email: nil
_______
About Arches National Park
Located in Eastern Utah, Arches National Park has the largest concentration of natural sandstone arches in the world, and is nearby the Colorado River in the United States. The park is largely a desert plateau, and receives less than 250mm rainfall in a year. Over 2000 sandstone arches are found at the park, and hence named the Arches National Park, in 1971. Every year, 1.2 million people visit Arches National Park, to see these spectacular natural red sandstone arches, and the most significant of them is the Delicate Arch, acknowledged as the national symbol of the State of Utah.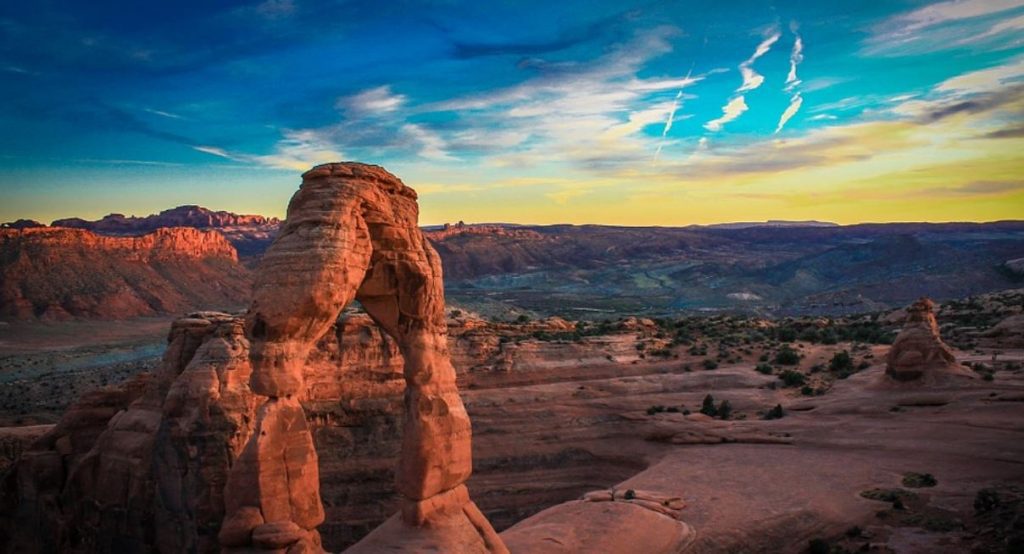 The predominant reason for the formation of these sandstone arches, are the thick layer of salt bed, deposited over 300 million years ago, and goes 1000ft underneath the ground. The salt beds, give rise to these huge pinnacles of stone arches, boulders, stone towers, and sand dunes, and these sandstone deposits are over 150 million years old. The park covers an area of 310 km2, and the tallest arch is about 144 feet (the Double Arch), and the longest arch is about 306 feet, known as the Landscape Arch.
The famous Delicate Arch is made of Entrada Sandstone, and other significant sandstone arches, worth seeing are the Petrified Dunes formed over the salt evaporated lakes, the Courthouse Towers, the Balanced Rock, the Devil's Garden, the Wall Arch and Double Arch, Landscape Arch, and the Fiery Furnace. Visitors can enjoy outdoor activities such as camping, trailing, hiking, and biking, at the park, and ranger guides are available for self-guided tours, to explore the park.
Besides the naturally formed sandstone arches, the National Park is home to Mountain Lions, Rattlesnakes, Foxes, Desert Sheep, Wild Falcons, Sparrows, Desert lizards, and Toads. The vegetation is sparse with Thorny Cactus, Wild Junipers, Pines, Primrose, and Wild Roses. The best time to visit Arches National Park is during the summer from April-May, and before the onset of autumn from September-October.
Open all year round, the admission passes to enter Arches National Park, are valid for 7 days, and cost $15 for individuals with bikes. Private vehicles with 15 people cost around $30, and is $25 for motorcyclists. Camping grounds are available at the Devil's garden, and a one-year pass costs about $55 per person. A typical day visit starts from 8am-4am, and the camping grounds are open all through the year for visitors. For complaints or queries on tickets, tour guides, parking, photography, or others, reach the Arches National Park support.