Find below customer service details of Allahabad Junction, including phone and email. Besides contact details, the page also offers a brief overview of the railway station.
Address
Civil Lines,
MG Marg, Madhopur,
Allahabad 211001
Uttar Pradesh
Directions: Google Maps
Support
Phone: 139
Phone: 0532-2408149
Email: [email protected] (IRCTC support)
_____
About Allahabad Junction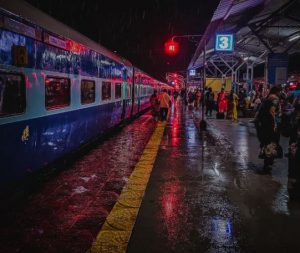 Allahabad Junction is an Indian railway station serving commuters in Allahabad, Uttar Pradesh. The station, operated by the North Central Railway Zone, boasts of 11 platforms and 15 tracks. With station code ALD, the station operates major lines connecting to key areas such as Howrah, Delhi, Mumbai, Ranchi and Patna. Another station serving the state is Allahabad City railway station situated in Rambagh. The major lines consist of Howrah-Delhi, Horah-Gaya-Delhi, Howrah-Allahabad-Mumbai, Allahabad-Jabalpur, Allahabad-Varanasi and Allahabad-Faizalabad. Opened in the year 1859, the station offers commuters facilities such as parking, computerized reservation counters, waiting lounges, AC retiring rooms, food stalls and WiFi facility.
Train travelers can visit the Indian Railways website to keep track of trains having origin or passing through the station. You can see the source, destination, timings, operating days and stops during the journey. And to search and book a train between two stations, you can visit the IRCTC website. The IRCTC website and smartphone app also enables one to check PNR status and track live status of train. Tickets can be booked on the IRCTC portal using debit/credit card and net banking. You can sign into your account to view or manage ticket.
As for major trains with stops at Allahabad Junction, you have CNB JAT Special , UA Toofan Express , PNBE Suvidha, ALD OKHA Special, Seemanchal Express, Sangam Express, ALD CAR Passenger, ALD ADI Superfast Express, Shipra Express, Ghy Rajdhani, Pnbe Hwh Special, ALD ST Special, Hwh Ajmer Special, Sarnath Express, Kolkata Rajdhani, North East Express, Jharkhand Express, Tribeni Express, Tulsi Express, Saket Express, Hwh Mumbai Mail, Kolkata Mail, Anvt ALD Special, Mahananda Express, Kalka Mail, to name a few. For complaints or queries on tickets, cancellation, refund, security, or others, reach the Allahabad Junction support.