Find below customer service details of Airblue, Pakistan. Besides contact details, the page also offers a brief overview of the airline.
Head Office
12th & 8th Floor, ISE Towers,
55-B Jinnah Avenue,
Islamabad, Pakistan
Customer Service
Phone: 111-AIR-BLU (247-258)
Phone: +92 51 111-247-258
Email: [email protected]
______
About Airblue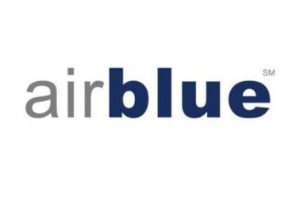 Airblue is a private Pakistani airline operating since the year 2004. With its main hub at Jinnah International Airport, the airport connects to destinations in Pakistan, UAE and Abu Dhabi. Currently, the airline flies passengers to ten destinations that include Lahore, Islamabad, Peshawar, Multan, Jeddah, Abu Dhabi, Dubai, Sharjah and Riyadh. For frequent fliers, the airline operates a loyalty program called Blue Miles. According to Wikipedia, the airline was the first in Pakistan to introduce e-ticketing and wireless check-in facilities.
For a complete schedule of the airline, visit the website Airblue.com. You also can see a number of deals for various routes. To search a flight, input the origin, destination, along with dates. Have an existing booking? With the booking reference number you can pull up flight details and request changes. As for fares, Airblue has three fares to choose from – Discount, Standard and Premium. While with discount fare you dont get to carry checked bag and have to pay higher fee on changes, with standard fare you get one checked bag, along with minimal rates for ticket changes. The premium fare allows fliers to carry two checked bags and there are no charges for ticket modification. Premium fliers enjoy 150% miles rewards and also priority boarding at airport.
Reservation of tickets can be done at any of the nearest Airblue sales outlet. Check-in for flights open 2 hours before scheduled departure time on domestic flights and 4 hours before scheduled departure time on international flights. All check-in counters close 45 minutes before flight departure. For international flights, the counters close 90 minutes before departure. As for baggage, the carryon baggage should have max weight of 7kg. The checked baggage on standard fare can hold 30kg and on premium fare up to 45kg.
If you are a frequent flier, register for the Blue Miles loyalty program. Fliers earn miles every time they fly with the airline. You can check miles accrued on the website. Miles are earned based on the fare type and distance between locations. Fliers can redeem the miles for future travel. You must have a minimum of 12,000 miles to book a travel. For complaints or queries on reservation, cancellation, refund, career, or others, reach the Airblue support.