Contact Maxis Communications: Find below customer service details of Maxis mobiles, including phone, email and address. You can reach the below contact for queries on new Maxis mobile connections, cancellation, internet plans, broadband complaints, 3G or other questions on Maxis services in Malaysia. Besides contact details the page also offers information and links on Maxis products.
Maxis Head Office
Maxis Berhad
Level 18, Menara Maxis
Kuala Lumpur City Centre
50088 Kuala Lumpur
Phone: (6)03 2330 7000
Maxis Customer Service
You can reach the below for general customer support, reporting stolen SIM card or mobile, payment, or other queries
Phone: 1800 82 1123 or 123 (if Maxis customer)
Phone: 6 – 03 7492 2123 (international calls)
Fax: 6 – 03 74922950
Repair Request
Phone: 1800 82 1202 or dial 1202 if Maxis customer
Broadband Support
Phone: 1800 82 2000
_______
View/Pay Bills Online
To pay or view your Maxis bills online click here. Once registered for the e-billing service, bill payments can be made any time of the day. Payments can be made by Visa or MasterCards. Your bills can also be paid through Direct Debit, by phone, via ATM, through mail, through Express Payment kiosks, by cheque and even through SMS.
Locate Maxis Outlets
Click here to locate a Maxis outlet where you can apply for any Maxis service, pay your Maxis bills, upgrade or replace your SIM and much more. Maxis outlets can be found in Subang Jaya, Kuala Lumpur, Klang, Johor Bahru, Ampang Jaya, Ipoh, Shah Alam, Kuching, Petaling Jaya, Kota Kinabalu, Cheras, Kajang and other cities.
Maxis Downloads
To download music, games, wallpapers or ringtones, access Maxis' online store here
Recharge Prepaid
To recharge prepaid or check new Hotlink plans click here
About Maxis Communications Berhad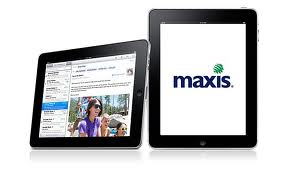 Maxis was founded by entrepreneur Ananda Krishnan in the year 1993. Today it is a leading mobile service provider in Malaysia. As of 2011, Maxis has over 14 million mobile subscribers.  The company was the first to launch 3G service in 2005 with Maxis3G. It was also the first to bring the BlackBerry and Apple iPhone smart phones in the country. Ranked as one of Malaysia's top ten companies, Maxis was recognised by Brand Finance as "Fourth Most Valuable Brand in Malaysia" in 2008 and 2009. In 2011, it was ranked as mobile service provider of the year by Forst & Sullivan. Besides being the No 1 in voice and data, Maxis has major market share for postpaid and prepaid. In wireless broadband business, Maxis in fact has more than 17 million users as of 2010. The company employs some 3,200 people and has over 21,000 outlets across the country. Maxis' brand vision is to "bring advanced communications services to enrich its customers' lives and businesses".
Maxis has individual plans for devices such as iPhone, iPad, Android, BlackBerry, Nokia, Windows Phone, Tablets or other phones. For basic lines, customers can find plans such as Value First, Value Plus 50, Value Plus 150, Value Plus 250, Value Plus 500 and Standard Plan. All these plans come with mobile internet functionality such as WAP, GRPS and 3G. Also it has pre-assigned services such as international roaming, caller identification, call waiting and other value added services. For broadband, Maxis has iPad plans, postpaid internet plans and prepaid internet plans. There are also monthly, weekly and daily WiFi plans. Maxis broadband has an extensive coverage across Malaysia.