Contact Kingfisher Airlines – Find below customer care details of Kingfisher Airlines, including the address, telephone, email and website. You can reach the below contacts for new reservations, cancellations, refund, or other queries. The page also contains information on Kingfisher Airlines.
Kingfisher Airlines Head Office
Kingfisher Airlines Limited
Kingfisher House, Western Express Highway
Vile Parle (E), Mumbai – 400099 India
Kingfisher Airlines Customer Care
Phone: 1 800 209 3030 / 1 800 180 0101
Phone: 1 800 425 7008 / 1 800 233 3131
International Contact
USA : 1 866 435 9532
UK: 0 800 047 0810
Rest of the World
+91 20 2729 3030
+91 20 6624 3030
Cargo Contact
Phone: 1 800 209 1222 (Door to Door Cargo)
Phone: 1 800 209 3030 (Airport to Airport Cargo)
____
Details for Ticketing Offices
Click here to get details of Kingfisher offices across the country.
Flight Schedules of Kingfisher Airlines
For Kingfisher Airlines flight schedules click here.
About Kingfisher Airlines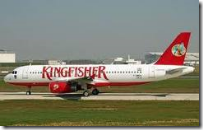 Headquartered in Mumbai, India, Kingfisher Airlines is one of the leading commercial airlines in India operating more than 375 daily flights to 71 destinations. Established in 2003, Kingfisher Airlines is owned by the Bengaluru based United Breweries Group. As a matter of fact, Kingfisher Airlines is one of six airlines in the world that has a 5-star rating from Skytrax, a UK-based consultancy. Named Best Airline In India, Kingfisher Airlines has received three global awards at the Skytrax World Airline Awards 2010
"I intend to make Kingfisher Airlines the best in the world and pursue this goal seriously, as I am sure you pursue your goals equally seriously. I have always aimed at delighting you and giving you nothing but the best. It is my passion to deliver a world-class experience," says the Chairman Dr. Vijay Mallya.
Guests on Kingfisher Airlines can fly in three unique classes of service – Kingfisher First (Business class) Kingfisher Class (Premium economy) and Kingfisher Red (Low fare). Most of the flights have personalized in-flight entertainment system. The domestic Kingfisher First seats have a 48 inch seat pitch and a 126 degree seat recline. There are laptop and mobile phone chargers on every seat. Passengers can avail of the latest international newspapers and magazines. Visit the Kingfisher Airlines website or speak with a Kingfisher customer service representative for more details.